Accredited Calibration Laboratory No. 2378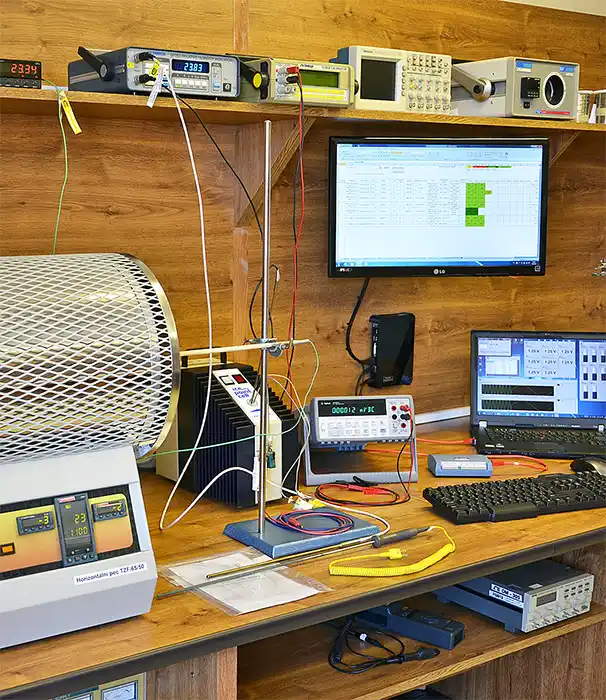 As the European and the world markets are unified, there are growing demands for the certification and the product quality certification. For this reason was established in our company the calibration laboratory to ensure the customer's requirements for the sensors delivery with a calibration certificate that uniquely defines the relationship between the measured values and the output values ​​from the calibrated sensor.
To ensure impartiality and credibility, our calibration laboratory has undergone an accreditation process and after meeting the requirements of ČSN EN ISO/IEC 17025:2018, has been obtained the accreditation certificate in the field of calibration of the thermoelectric temperature sensors and digital thermometers. At the same time, we meet the ISO 9001:2000 quality management system requirements.

The calibration laboratory is equipped mostly with the laboratory equipments from OMEGA Engineering. There are in the additional the equipments from the other vendors, for example, a three-zone calibration furnace with the range up to 1200°C. The main activity of the laboratory is the calibration of the thermocouple sensors, resistive temperature sensors and digital thermometers.
In addition, the laboratory performs the calibrations of the infra-thermometers by comparing with the BB702, BB704, BB705 and BB-4A black bodies, as well as the calibration of the relative humidity sensors in the range 15-90% with an accuracy of 1-4% on the RHCL-KIT Humidity Calibrator.
If you are requesting calibration, please provide following informations:
At what temperature points do I calibrate?
(3 temperature points by default)
Is this a new or used probe?
(the new ones must be annealed at max. temperature)
Length and diameter of the probe?
(minimum length of probe with accreditation is 25 cm)
Do you want to calibrate with accreditation?
(without accreditation we can calibrate wider range)
For further questions please use contact form or write to the lab's e-mail.
Price List of Calibration Services:
Calibration of temperature sensors
1 pc
2 and more
with accreditation
Thermocouples range 100 – 1100°C
44 Eur
35 Eur/pc
without accreditation
RTD range at 0°C and 100 – 420°C
45 Eur
36 Eur/pc
Thermocouples range at 0°C and 100 – 1100°C
41 Eur
32 Eur/pc
extra point (apart from the standard 3 points)
9 Eur/point
Calibration of electronic thermometers
1 pc
+each channel
with accreditation
Digital thermometers range 100 – 1100°C
30 Eur
+14 Eur/ch
without accreditation
Digital thermometers range at 0°C and 100 – 1100°C
28 Eur
+12 Eur/ch
extra point (apart from the standard 3 points)
9 Eur/point
Calibration of infrared thermometers
1 pc
without accreditation
on BB702 – Ø max. 64mm, 32 – 215°C
37 Eur
on BB704 – Ø max. 100mm, 100 – 398°C
41 Eur
on BB705 – Ø max. 44mm, 398 – 1046°C
46 Eur
on BB-4A – Ø max. 22mm, 100 – 982°C
46 Eur
extra point (apart from the standard 3 points)
14 Eur/point
Calibration of humidity sensors
1 pc
without accreditation
on RHCL-KIT, range 15 – 90 % RH
83 Eur
extra point (apart from the standard 3 points)
28 Eur/point
---