Omega's Co-Op Student Wins Prestigious Award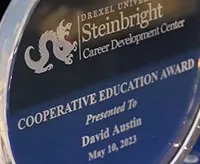 On May 10th, OMEGA had the pleasure of attending the 2023 Cooperative Education Award ceremony at beautiful Drexel University in Philadelphia. Each year, the Cooperative Education Awards celebrate the continued success of Drexel University's co-op experiences, and a very select group of students, employers, and faculty are recognized for outstanding work in the program. Ken Leibig, our Director of Engineering, nominated Omega's co-op David Austin, for his significant work on the HANI™ temperature sensor project.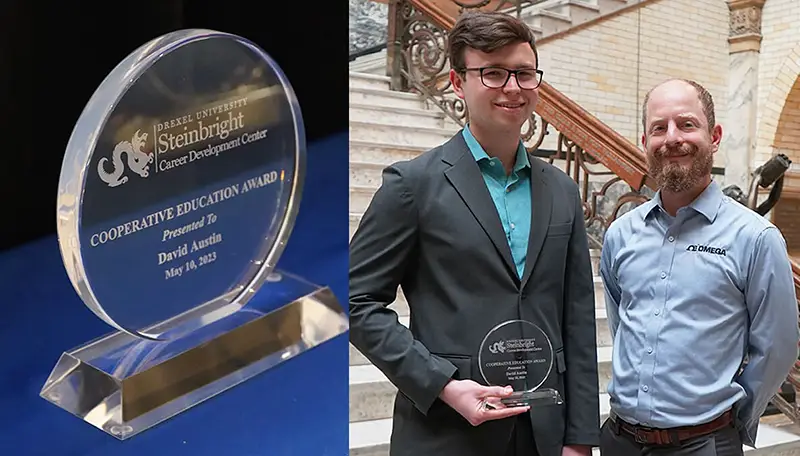 Out of 200 nominees, David was one of only 10 students (and the only Engineering program student) selected for this prestigious award. During his time at OMEGA, David has greatly contributed to the Engineering Team. At an Engineering Team meeting, while discussing some test data that did not seem to correlate with expectations, David made an acute observation about the patent-pending algorithm for the HANI™ sensor. This observation led David to create a new algorithm for the sensor that worked.
David is now included as a co-inventor on the next provisional patent filing, and he is the only co-op in the history of the program at OMEGA who has made a contribution large enough to be included on a patent filing.
Ken Leibig, who is also a Drexel alum, says, "I knew that the Drexel co-op program was a great one, and that's why I helped create the program at OMEGA Engineering when I started in 2018. I knew it would be a successful program, but I never imagined we would have a student as talented and impactful as David Austin." 
Congratulations to David Austin and thank you for your incredible work here at OMEGA!