Source 14 T/C Types Plus mV J, K, T, E, R, S, B, N, G, C, D, L (J DIN), U (T DIN) & P (Platinel); -13.000 to 80.000 mV. Resolution of 0.1°F and ºC. Instantly Select Three Outputs With Check Switch. Easily Change T/C Types, Scale (°C and °F). Easy-to-Read Display. More
With the CL540ZA you can check and calibrate all your thermocouple instruments. Connect via a miniature thermocouple connector on the top end of the source. Use your own thermocouple wire connectors or order one of the cable accessories for easy operation out of the box. Easy to operate even in the dark areas of the plant with the backlit display. Stop carrying around a millivolt source and thermocouple tables. The CL540ZA works with the thermocouples you use including Types J, K, T, E, R, S, B, N, G, C, D, L (J-DIN), U (T-DIN) and P (Platinel II). Easily set any value quickly to within 0.1° with the adjustable digital potentiometer "DIAL" plus store any three temperatures for instant recall with the selector switch. You can also calibrate from -13.000 to +80.000 mV. Connect directly to the thermocouple inputs of smart transmitters, PLCs, controllers and multichannel recorders and verify their outputs or displays.
SPECIFICATIONS:
Accuracy: ±(0.015% of Reading + 0.006 mV)
Cold Junction Compensation: ±0.25°C (±0.45°F)
Operating Temperature Range: -25 to 60°C (-10 to 140°F)
Millivolt Range: -13.000 to 80.000 mV
Relative Humidity Range: 10% ? RH ? 90% 0 to 35°C (32 to 95°F), non-condensing. 10% ? RH ? 70% 35 to 60°C (95 to 140°F), non-condensing
Dimensions: 126 L x 69 W x 45 mm D (4.96 x 2.73 x 1.79") With Boot: 144 L x 78 W x 52 mm D (5.67 x 3.06 x 2.05")
Weight: 238 g (8.4 oz) (including batteries) With Boot: 311.8 g (11 oz) (including batteries)
Batteries: Four "AA" Alkaline 1.5V (included)
Battery Life: 50 hours
Low Battery: Low battery indication with nominal 1 hour of operation left
Protection Against Misconnection: Over-voltage protection to 60 Vdc (rated for 30 seconds)
Display: High contrast graphic liquid crystal display. LED backlighting for use in low lit areas
Source:
Output Impedance: < 0.3 Ω
Source Current: > 20 mA (drives 80 mV into 10 Ω)
Noise: ≤ 4 microvolts p-p for frequencies of 10 Hz or below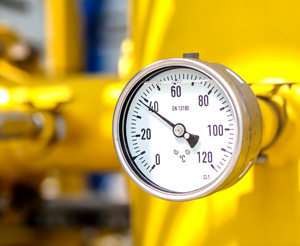 Temperature can be measured via a diverse array of sensors. All of them infer temperature by sensing some change in a physical characteristic. Six types with which the engineer is likely to come into contact are: thermocouples, resistive temperature devices (RTDs Pt100 and thermistors), infrared radiators, bimetallic devices, liquid expansion devices, and change-of-state devices.
Choose the right temperature measurement instrument for your application...
---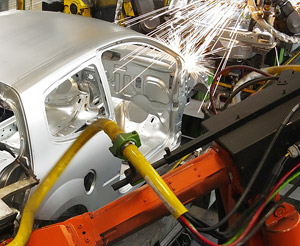 OMEGA is an industrial sensor and measurement solutions provider with over 50 years of experience. With the ability to provide a complete range of instruments and engineering services it would be difficult to find a better partner for the automotive industry.
OMEGA has a track record of providing state-of-the-art sensors and measurement instrumentation for the automotive industry. With our vast experience and knowledge in industrial applications and development of high quality measuring instruments, sensors and complete solutions...
---
* Fields marked with an asterisk are required