16 Channel Thermocouple Data Logger With Touch Screen
Multi-channel thermocouple datalogger. 16 channels, support for thermocouple types K, J, E, T, R/S, N, B, C. Measurement range from -270 to 2320°C. Very easy to use and configure. USB interface and SD card support. Ethernet (RJ45) interface for monitoring measured values in real time. 32GB internal memory. Recording capacity up to 8 million records. Export the historical data to CSV file format. 5" color touch screen. More
Portable multi-channel thermocouple datalogger OM-TCS1500-16 supports up to 16 thermocouples of types K, J, E, T, R/S, N, B, C. It has a wide temperature measurement range from -270 to 2320°C. There's no need for a PC, users can view all data on the 5" color touch screen. The collected data information can be displayed through digital interface, bar chart interface or real-time curve.
The device is equipped with USB interface, micro SD card slot and RJ45 ethernet interface. The fastest sampling frequency is 1s, slowest is 86 400s (24h). Datalogger has the function of viewing real-time data curve and historical data curve. Support USB flash disk and micro SD card to export the historical data to CSV file format, for data processing e.g. in Excel application, etc.
OM-TCS1500-16 is a portable recording instrument with rich functions, high integration and intelligence. Versatility makes OM-TCS1500-16 the perfect companion for industrial engineers, quality assurance professionals, compliance officers or automotive technicians. The OM-TCS1500-16 is very easy to use and configure via the built in capacitive touchscreen graphic display.
Display of measured values and graphs:

Display of bar graphs and channels configuration:

Displaying the currently measured values in the Internet browser: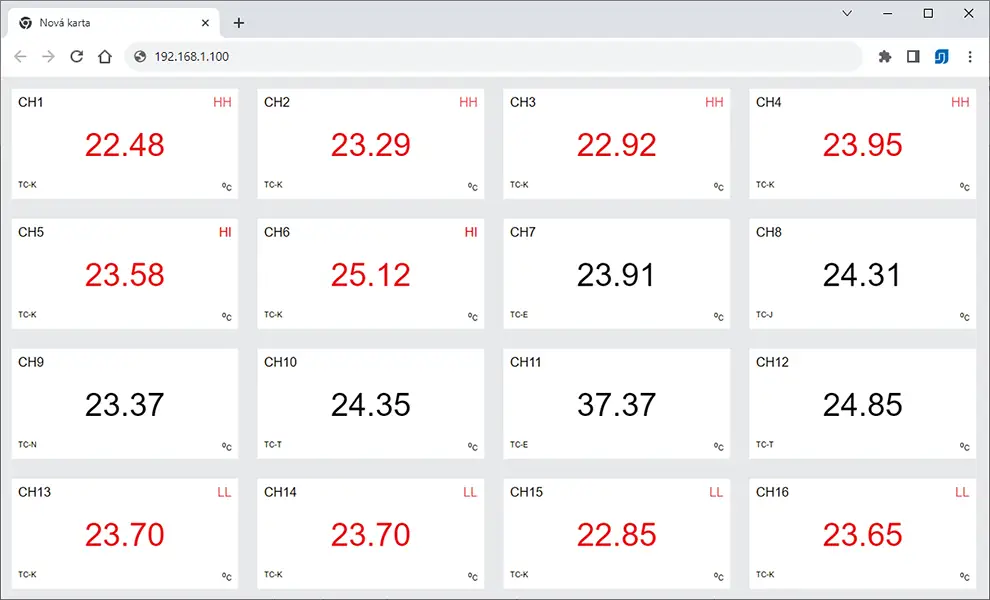 The delivery includes a durable lockable case that contains a USB charger, a USB-C cable and a 32GB flash drive.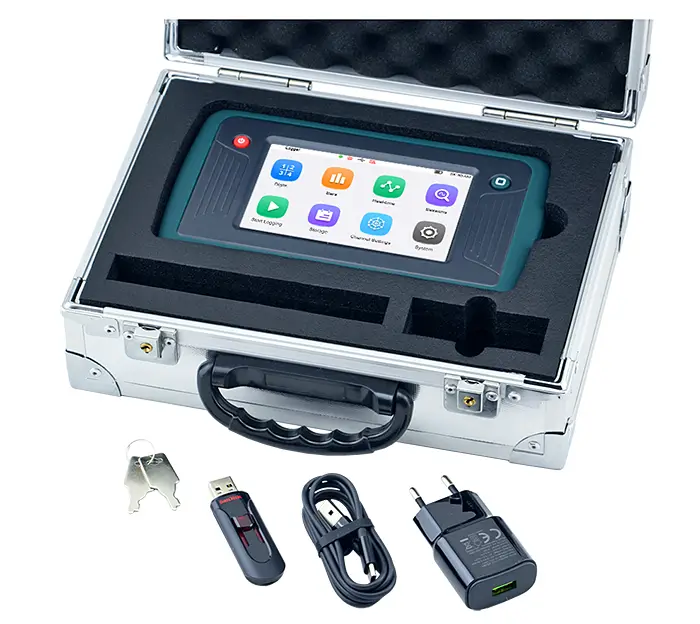 SPECIFICATIONS:

Display: 5" capacitive touch screen, resolution 800 x 480px
Number of channels: 16-channel thermocouple input
Storage capacity:
Single record capacity: 100 000 records
Total data recording capacity: 8 million records
Internal storage: 32GB
External data transfer: support USB flash disk (USB 2.0), micro SD card (up to 32GB)
Ethernet: RJ45, transmission rate 10/100 Mbit/s, full/half duplex
Internal battery: 5000mAh (Li-Ion)
Battery working time: 5 to 8 hours (related to the brightness of the LCD and sampling time)
Sampling frequency: fastest 1s
Recording frequency: 1s to 86400s (24h)
Export data format: CSV file
Working temperature: -10 to 50°C
Storage temperature: -20 to 60°C
Relative humidity: 5% to 95% RH, non condensating
Shell material: PC + ABS plastic, protective sleeve is made from silicone
Dimensions: 189.3 x 103.5 x 39mm (with protective sleeve)

If you are interested in temperature calibration, also buy the appropriate temperature probes for the required number of channels.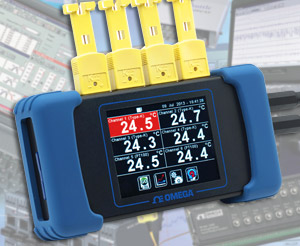 Technically speaking, a data logger is any device that can be used to store data. This includes many data acquisition devices such as plug-in boards or serial communication systems which use a computer as a real time data recording system. Most instrument manufacturers, however, consider a datalogger a stand alone device that can read various types of electrical signals and store the data in internal memory for later download to a computer.
The advantage of data loggers is that they can operate independently of a computer, unlike many other types of data acquisition devices. Data loggers are available in various shapes and sizes...
---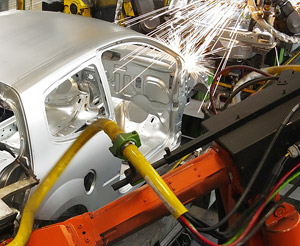 OMEGA is an industrial sensor and measurement solutions provider with over 50 years of experience. With the ability to provide a complete range of instruments and engineering services it would be difficult to find a better partner for the automotive industry.
OMEGA has a track record of providing state-of-the-art sensors and measurement instrumentation for the automotive industry. With our vast experience and knowledge in industrial applications and development of high quality measuring instruments, sensors and complete solutions...
---
* Fields marked with an asterisk are required