0.1% Accuracy. Fast Temperature Response. Display T1, T2 or T1-D2 Differential. Functions: Hold/Min/Max/Max-Min/AVG/REL. Auto Power-Off (10 Minutes). Backlight with Auto-Off (15 Seconds). More
The HHC201 is a dual input thermocouple thermometers with 0.1% accuracy, auto ranging 0.1 degree or 1 degree resolution, and provided with 2 type K thermocouples. Its measurement range is -76 to 2500°F or -100 to 1372°C. The backlit triple display shows T1, T2 and T1-T2. Hold, Min, Max, Max-Min and Average temperature are also selectable.
HHC201 Environmental Thermometer
If you are interested in temperature calibration, also select the appropriate temperature probes for the required number of channels.
SPECIFICATIONS:
Units: °C or °F
Range: -200 to 1372°C
Resolution: 0.1°: -100 to 1372°C; 1°: -200 to -100°C
Accuracy: Type K thermocouple ITS-90
±(0.1% rdg +1°C): -60 to 1372°C
±(0.1% rdg +2°C): -200 to -60°C
Operating Temperature: 0 to 50°C
Power: 2 "AAA" batteries (included)
Battery Life: 250 hours typical with alkaline batteries
Dimensions: 24.7 x 50.9 x 132.9 mm
Weight: 148g
Comes complete with batteries, carrying strap, protection cap, and thermocouple.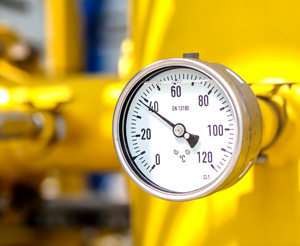 Temperature can be measured via a diverse array of sensors. All of them infer temperature by sensing some change in a physical characteristic. Six types with which the engineer is likely to come into contact are: thermocouples, resistive temperature devices (RTDs Pt100 and thermistors), infrared radiators, bimetallic devices, liquid expansion devices, and change-of-state devices.
Choose the right temperature measurement instrument for your application...
---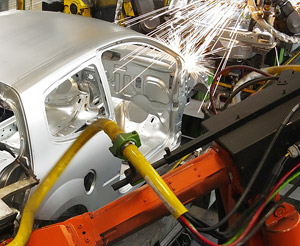 OMEGA is an industrial sensor and measurement solutions provider with over 50 years of experience. With the ability to provide a complete range of instruments and engineering services it would be difficult to find a better partner for the automotive industry.
OMEGA has a track record of providing state-of-the-art sensors and measurement instrumentation for the automotive industry. With our vast experience and knowledge in industrial applications and development of high quality measuring instruments, sensors and complete solutions...
---
* Fields marked with an asterisk are required