4 Channel Analog Datalogger with Bluetooth LE
4x process current / voltage inputs for logging data from external sensors. Bluetooth Low Energy (BLE) 30 m communications. 16-bit resolution for highly accurate measurements. Stores 1.9 million measurements for longer deployments between offloads. Environmental Rating IP54. Free app for Android and iOS devices. Country of Origin: United States. More
The MX series multi-channel data logger model MX1105, with four-channel inputs, measures and transmits data wirelessly from a variety of sensors to your Android or iOS mobile device via Bluetooth Low Energy (BLE) technology. This self-contained wireless data logger lets you use your mobile device and free HOBOconnect app to access data, at any time, over a 30 m range via Bluetooth Low Energy (BLE) technology. You can configure the logger, read out data, view data in graphs, check the operational status of loggers, configure alarm notifications, and share data files – all with no dedicated equipment beyond an Android or iOS mobile device.
The MX1105 allows you to modernize, monitor, and log a variety of process and environmental monitoring sensors with analog process, 4-20 mA, 0-10 Vdc, 0-5 Vdc, 0-2,5 Vdc and 0-24 Vdc outputs. If used with the MX Gateway, you can remotely access your data in cloud-based HOBOlink® software.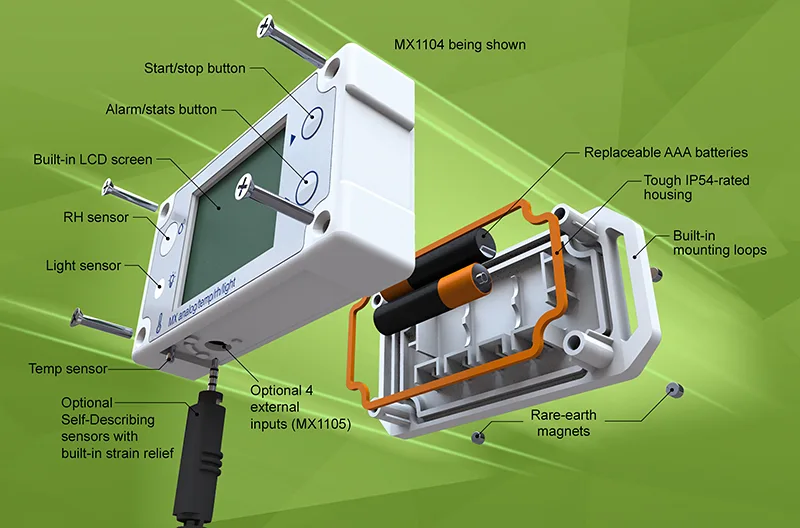 On the "Accessories" tab below you can find the required "Self-Describing" analog input cables to match the types of analog outputs on the sensors or other devices that you will be connecting to the 4 analog inputs.
Illustrative previews of the application (another model):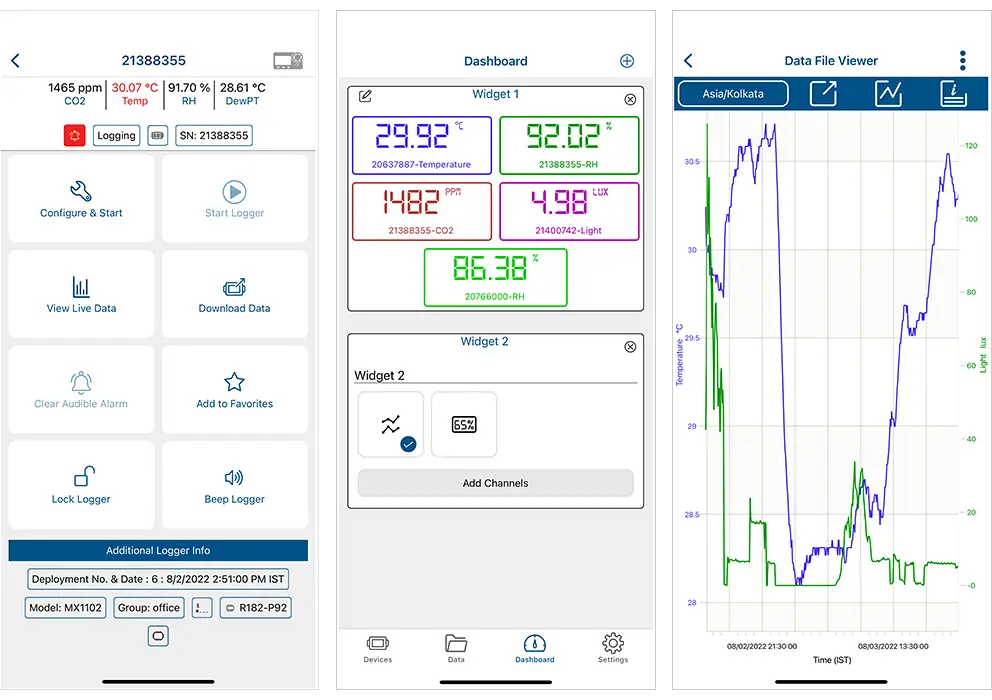 You can download the app for your Android or iOS device below:
For complete technical specifications, see the spec sheet in the "Downloads" section.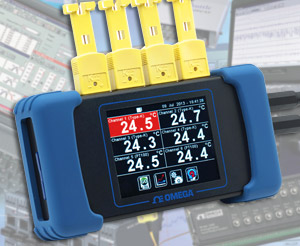 Technically speaking, a data logger is any device that can be used to store data. This includes many data acquisition devices such as plug-in boards or serial communication systems which use a computer as a real time data recording system. Most instrument manufacturers, however, consider a datalogger a stand alone device that can read various types of electrical signals and store the data in internal memory for later download to a computer.
The advantage of data loggers is that they can operate independently of a computer, unlike many other types of data acquisition devices. Data loggers are available in various shapes and sizes...
---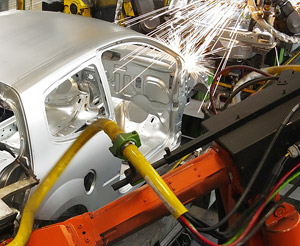 OMEGA is an industrial sensor and measurement solutions provider with over 50 years of experience. With the ability to provide a complete range of instruments and engineering services it would be difficult to find a better partner for the automotive industry.
OMEGA has a track record of providing state-of-the-art sensors and measurement instrumentation for the automotive industry. With our vast experience and knowledge in industrial applications and development of high quality measuring instruments, sensors and complete solutions...
---
* Fields marked with an asterisk are required
Accessories (1)


can be ordered
from € 40.60 excl. VAT
Cables for use with MX1104 and MX1105 Series Multi-Channel Data Loggers with Analog Input Channels.