6 Channel Temperature Data Logger with USB and SD slot
Four Thermocouple Inputs and Two Pt100 RTD Inputs. Display and Log All 6 Channels Simultaneously or Individually. USB Interface with Free Software. MODBUS Protocol for Integration Into 3rd Party Software. Built-In Stand. Scheduled and Manual Logging Start/Stop. 4 GB SD Card Stores Up to 2 Years of Data. Display Maximum, Minimum, Average and Standard Deviation. Display Temperature Difference Between Any 2 Channels. USB or Mains Powered (With Adaptor). Alarm Indication for Each Channel. More
The RDXL6SD-USB is a six-channel touch screen data logger that accepts four thermocouple and two RTD inputs. Each channel has individually configurable HI/LO alarms. The intuitive touch screen interface allows each channel to be configured separately for input type, math, alarm, and display options.
All six channels can be displayed and logged simultaneously or individually. Data can be logged as fast as once a second and is stored on the included 4 GB SD card in Excel compatible format.
SPECIFICATIONS:
Inputs: 4x thermocouple inputs for use with miniature thermocouple connectors, and 2 x spring clamp terminals for 2 or 3-wire RTDs, 28 to 16 AWG
Input Temperature Range:
    Type J: -200 to 1200°C
    Type K: -200 to 1372°C
    Type T: -200 to 400°C
    Type R: 0 to 1768°C
    Type S: 0 to 1768°C
    Type N: 0 to 1300°C
    Type E: -200 to 1000°C
    RTD: -200 to 850°C
Temperature Accuracy:
    For Thermocouples: ±0.1% or 0.8°C
    For RTD: ±1.0% or 1.0°C
Temperature Resolution: 0.1° for temperatures below 1000°C or °F, 1° for temperatures above 1000°C or °F
Display: 72 mm resistive touch TFT, 320 x 240 pixels, backlit
Configurable Parameters: Temperature units, alarms, signal processing, date and time, data logging, power options, graph channels
Temperature Units: °F or °C
Alarm Configuration: 12 x alarms (2 per channel) with adjustable level, individually configurable as HI or LO
Signal Processing: Average, minimum, maximum, standard deviation, 2-channel temperature difference
Display Response Time: 1 second
Operating Temperature: 0 to 50°C
Power Supplies: Built-in rechargeable battery, USB, or 5 Vdc adaptor (included)
Battery Life: 32 hour logging with full display brightness; up to 96 hours while logging in power saving mode
Weight: 200 g without thermocouples
Dimensions: 136 W x 71 H x 32 D mm
Data Logging Specifications
Data Logging Interval: 1 to 86,400 seconds (1 day)
Maximum SD Card Capacity: 32 GB SD Card (4 GB included)
Variables Logged: Measured temperature, cold junction temperature, alarm events
File Format: .csv (can be imported to Excel)
Configurable Parameters: Sample period, number of samples, scheduled start date and time
If you are interested in temperature calibration, also select the appropriate temperature probes for the required number of channels.
Complete informations can be found in the spec sheet (PDF), see the "Download" section.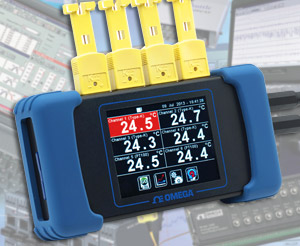 Technically speaking, a data logger is any device that can be used to store data. This includes many data acquisition devices such as plug-in boards or serial communication systems which use a computer as a real time data recording system. Most instrument manufacturers, however, consider a datalogger a stand alone device that can read various types of electrical signals and store the data in internal memory for later download to a computer.
The advantage of data loggers is that they can operate independently of a computer, unlike many other types of data acquisition devices. Data loggers are available in various shapes and sizes...
---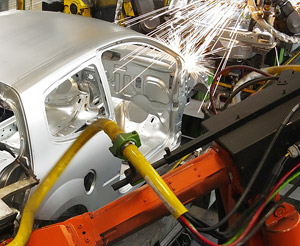 OMEGA is an industrial sensor and measurement solutions provider with over 50 years of experience. With the ability to provide a complete range of instruments and engineering services it would be difficult to find a better partner for the automotive industry.
OMEGA has a track record of providing state-of-the-art sensors and measurement instrumentation for the automotive industry. With our vast experience and knowledge in industrial applications and development of high quality measuring instruments, sensors and complete solutions...
---
* Fields marked with an asterisk are required