8/16 Channels USB Thermocouple and Voltage Input Module
8 Differential or 16 Single Ended Analog Inputs. 24 Bit Resolution with Up to 1000 Samples/Sec. User Programmable for Type J, K, T, E, R, S, B, N Thermocouple or Voltage Input. Free Windows Software Suite Available for Download from OMEGA - DAQ Central Menu Driven Windows Software and Also .NET API/Driver for Visual Basic, C#, and Visual C++. Powered Directly by USB Port or External DC Power Supply. 500 V Isolation Between Input and PC for Safe and Noise-Free Measurements. Provides +12 Vdc Output for Sensor Excitation. More
The OM-DAQ-USB-2401 is a portable USB thermocouple/voltage input data acquisition module that can be used with either desktop or laptop PCs. This stand-alone module draws power from the USB port to operate and has 500V isolation to PC. An external power supply (optional) can be used. The compact, modular packaging ensures ease of use in a variety of applications. Units can be DIN rail or wall mounted with the included hardware or easily operated on a bench.

Software Configurable Channels
All configurable options (including individual channel input type and range) are software programmable. The OM-DAQ-USB-2401 is user programmable for thermocouple types J/K/T/E/R/S/B/N and voltage input ranges from ±30 mV to ±10V full scale.

Resolution and Speed
Even with it's high 24-bit resolution, all analog input channels can be measured sequentially at about 1 ms per channel. A total of 1000 samples per second can be taken, divided across all active channels.*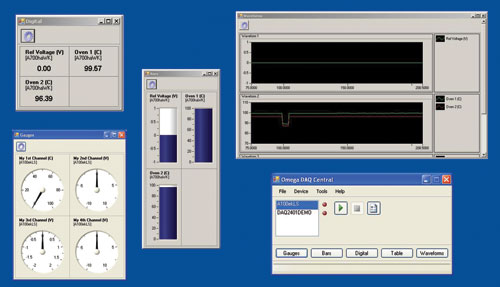 A free Windows Software Suite that includes the DAQ Central menu driven Windows software is available for download from OMEGA. DAQ Central allows charting, data logging, file storage and virtual instrument viewing (digital meters, dial meters, bar graphs) of data in real time. No programming is required - simply point, click, and drag desired display options to create a virtual display screen. Additionally, for those users who would like to design and develop their own custom application program, the software suite includes a .NET driver for C#, Visual Basic and Visual C++.
If you are interested in temperature calibration, also select the appropriate temperature probes for the required number of channels.
SPECIFICATIONS:
General
Isolation: 500V from PC
External Excitation Output Voltage: 12 Vdc regulated, max total current output 67 mA
Power Requirements: Powered direct from USB port, max 500 mA, or from external 7.5 to 12 Vdc
Environmental: 0 to 50°C 95% RH (non-condensing)
Operating Temperature: 0 to 50°C, 0 to 95% RH non-condensing
Storage Temperature: -40 to 85°C
Weight: 0.23 kg
Dimensions: 107 W x 128 L x 39 mm H
Input Voltage Range: Software programmable on a per-channel basis differential/single-ended
  -10 to 10V  -500 to 500 mV
  -5 to 5V  -250 to 250 mV
  -2.5 to 2.5V   -125 to 125 mV
  -2 to 2V  -75 to 75 mV
  -1 to 1V  -30 to 30 mV
TC Input Range
    Type J: -18 to 1200°C
    Type K: -129 to 1372°C
    Type T: -101 to 400°C
    Type E: -184 to 1000°C
    Type R: 204 to 1768°C
    Type S: 204 to 1768°C
    Type B: 538 to 1820°C
    Type N: -129 to 1300°C
TC Input Thermocouple Accuracy: In very slow mode, 24 bit resolution
  J = ±1.1°C; K = ±1.2°C; T = ±1.1°C; E = ±1.0°C; R = ±2.5°C; S = ±2.6°C; B = ±3.3°C; N = ±1.5°C 
Cold Junction Compensation Accuracy: ±1.0°C
Analog Input Accuracy:
Differential Input: In very slow mode, 0.015% of reading +0.004% of range +10uV (exclusive of noise)
Single-End Input: In very slow mode, 0.05% of reading +0.01% of range +50uV (exclusive of noise)
Power Supply: From USB or 9 Vdc universal adaptor (included)
DIN Rail Mounted for Rack Application: Optional
Open Thermocouple Detect: Automatically enable when a channel is configured for a thermocouple sensor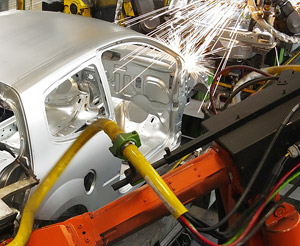 OMEGA is an industrial sensor and measurement solutions provider with over 50 years of experience. With the ability to provide a complete range of instruments and engineering services it would be difficult to find a better partner for the automotive industry.
OMEGA has a track record of providing state-of-the-art sensors and measurement instrumentation for the automotive industry. With our vast experience and knowledge in industrial applications and development of high quality measuring instruments, sensors and complete solutions...
---
* Fields marked with an asterisk are required