8 Channel Universal Data Logger With Touch Screen
All-in-one solution that does not require a PC. 5" touch screen with full-color display. 8 input channels simultaneously measure current, voltage, temperature and pulse. Supports thermocouple, RTD and thermistor probes. Real-time data is automatically generated into graphs for immediate analysis. More
The OM-CP-OCTPRO Logger is an all-in-one solution for applications that require immediate analysis. Equipped with eight input channels, the OCTPRO can simultaneously measure current, voltage, temperature and pulse, providing users with real-time data at a moment's notice. There's no need for a PC, users can view all data in tabular or graph form on the 5" touch screen, full-colour display.
OM-CP-OCTPRO Logger Highlight
Versatility makes OM-CP-OCTPRO the perfect companion for industrial engineers, quality assurance professionals, compliance officers or automotive technicians. The OM-CP-OCTPRO is very easy to use and configure via the built in capacitive touchscreen graphic display.
Applications
- Process Monitoring
- Machine efficiency studies
- Multi-use Laboratory and R&D applications
Setting Up the OM-CP-OCTPRO
Reading Rate Information
All channels will use the same reading rate. Reading rates will be capped at 4 Hz when a temperature channel is selected.
Channel Configuring the OM-CP-OCTPRO
SPECIFICATIONS

Dimensions: 169 mm x 112 mm x 36 mm) Data logger only
Touch Screen Dimensions: 5 inches
Number of Channels: 8
Weight: 590 g (1.3 lbs)
IP Rating: IP20
Start Modes: Immediate Start & Delay Start
Memory: 1,000,000 readings
Battery Type: Rechargeable 3.7 V Lithium-Ion Battery Pack
Battery Life: Continuous on-screen sampling: 9 hours; Stand-by mode: 100 hours
Data Format: Exported .csv file format
Time Accuracy: ±1 minute/month
Operating Environment: 0 °C to +50 °C (32 °F to +122 °F) 0% RH to 95% RH non-condensing
Enclosure Material: Polycarbonate, TPE Protective Boot
Calibration: Factory calibration is recommended annually
BATTERY
Set-up: Backlight intensity set to 20%, Backlight timeout set for 5 seconds, 1 second reading rate
Battery Life: 1-minute reading rate, 8 channels = 10 Hours, 30 minutes
Set-up: Backlight intensity set to 20%, Backlight timeout set to off, 1 second reading rate
Battery Life: 1-second reading rate, 8 channels = 9 Hours
WARNING: Battery may explode or fire if mistreated. Do not disassemble or dispose of in fire. Do not charge except specified with charging condition. Do not heat above 212 °F, or short circuit. Do not crush or modify.

(Mains power adaptor needs to be ordered separately)
If you are interested in temperature calibration, also buy the appropriate temperature probes for the required number of channels.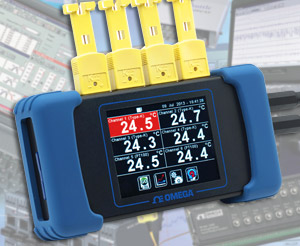 Technically speaking, a data logger is any device that can be used to store data. This includes many data acquisition devices such as plug-in boards or serial communication systems which use a computer as a real time data recording system. Most instrument manufacturers, however, consider a datalogger a stand alone device that can read various types of electrical signals and store the data in internal memory for later download to a computer.
The advantage of data loggers is that they can operate independently of a computer, unlike many other types of data acquisition devices. Data loggers are available in various shapes and sizes...
---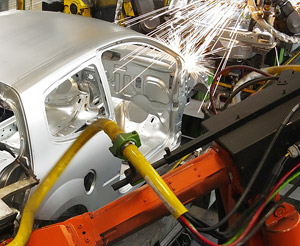 OMEGA is an industrial sensor and measurement solutions provider with over 50 years of experience. With the ability to provide a complete range of instruments and engineering services it would be difficult to find a better partner for the automotive industry.
OMEGA has a track record of providing state-of-the-art sensors and measurement instrumentation for the automotive industry. With our vast experience and knowledge in industrial applications and development of high quality measuring instruments, sensors and complete solutions...
---
* Fields marked with an asterisk are required