8 to 160 Channels USB Thermocouple Data Acquisition system
Data acquisition system for temperature measurement with 8 thermocouple. Windows Software Included For Real-Time Display and Data Logging. Wide Temperature Range of -270 to 1820°C. Accepts Thermocouple Types J, K, T, E, R, S, B and N. Up to 10 Readings Per Second. Automatic Cold Junction Compensation. High Accuracy and Resolution. USB Interface - No Power Supply Required. Multiple Units Can Be Run On a Single PC, up to 160 channels. Software for Windows, MacOS, Linux and Raspbian. More
The TC-08 thermocouple data acquisition module is designed to measure a wide range of temperatures using any thermocouple that terminates in a miniature size thermocouple connector. Additionally the TC-08 can also measure other sensors using a ±70 mV range. Featuring built-in cold junction compensation (CJC), the TC-08 has an effective measuring range of -270 to 1820°C (the actual temperature range depends on the thermocouple type being used).
The TC-08 can be used with thermocouple types J, K, T, E, R, S, B and N and outputs can be viewed in degrees F, C or mV. The unit is accurate to 0.2 percent ± 0.5 degrees C and has a resolution of better than 0.1 degrees C for most thermocouple types.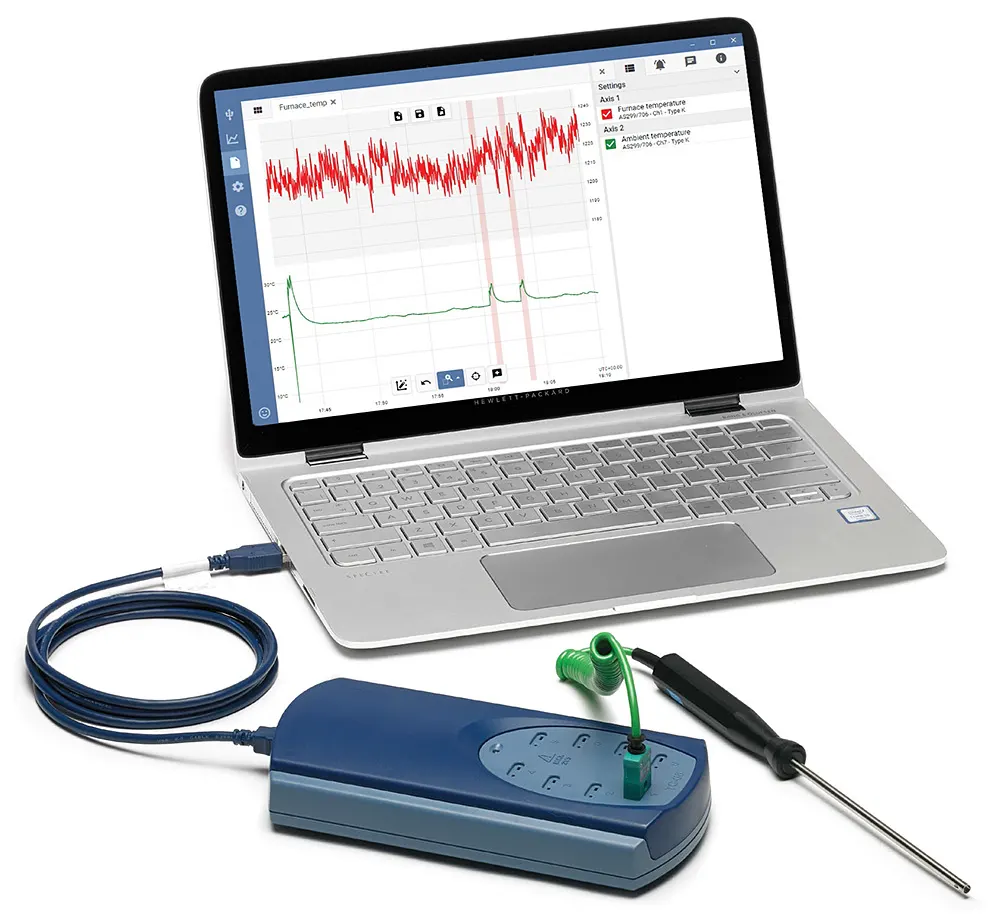 The TC-08 connects to the USB port of a Windows based PC and enables the host PC to automatically detect the TC-08 avoiding the need for any complex setup procedures. The USB connection also allows the TC-08 to be powered directly by the USB bus eliminating the need for an external power supply and making the TC-08 ideal for measuring temperatures both in the lab and in the field.
The TC-08's USB connectivity allows up to 20 TC-08 USB data acquisition modules to be used simultaneously on one PC making the TC-08 ideal for use as a large multi-channel temperature acquisition system with a cost per channel significantly lower than other systems of this size.
TC-08 modules can be mixed with PT-104A RTD input modules and used at the same time. Up to 20 units of any kind (PT-104A or TC-08) can be connected.
The low conversion time of the TC-08 means up to 10 temperature measurements can be taken every second, while the high (20 bit) resolution ensures that the TC-08 can detect minute changes in temperature. With the TC-08 thermocouple data acquisition module your measurements can be made both fast and accurately. Simply plug the TC-08 into a USB port on your computer, connect your thermocouples, and you are ready to measure temperatures.
Software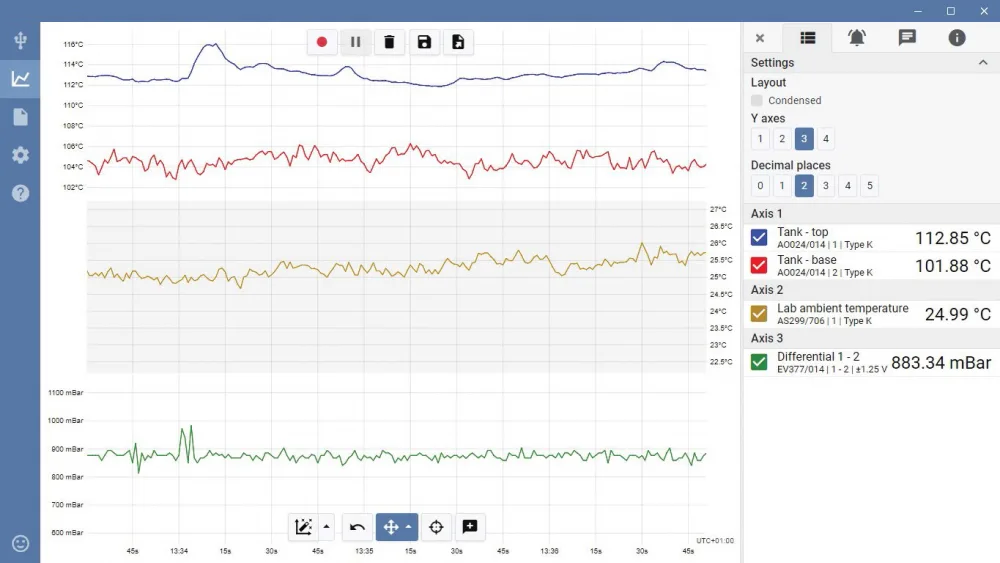 With the included TC-08 Recorder software, you can configure multiple TC-08s, set the sampling interval from 0.1 seconds to several hours and set the maximum number of readings. You can also tell TC-08 Recorder what to do once the thermocouple readings have been taken - either: Stop; Repeat Immediately (start again); Scroll (oldest recordings disappear); or Repeat After Delay (where the delay is set by the user). Mathematical operations can also be performed on the thermocouple outputs: for example to output one temperature relative to another. The control software is available for various platforms - Windows, MacOS, Linux and Raspbian for the popular Raspberry Pi single board computers.
If you are interested in temperature calibration, also select the appropriate temperature probes for the required number of channels.
SPECIFICATIONS:
Number of Channels: 8
Conversion Time: 100 ms (thermocouple and cold junction compensation)
Temperature Accuracy: Sum of ±0.2% of reading and ±0.5°C
Voltage Accuracy: Sum of ±0.2% of reading and ±10 µV
Overload Protection: ±30 V
Maximum Common Mode Voltage: ±7.5 V
Input Impedance: 2 MOhms
Input Range (Voltage): ±70 mV
Resolution: 20-bits
Noise Free Resolution: 16.25-bits
Thermocouple Types: B, E, J, K, N, R, S, T
Input Connectors: SMPW miniature thermocouple connectors
Output Connector: USB cable supplied 1.8 m (6')
PC Connection: USB 2.0 or higher
Power Supply: From USB port (must be connected direct to the port or a powered USB hub)
Dimensions: 201 x 104 x 34 mm
Included Software: TC-08 Recorder and Player
Operating System: Microsoft Windows 7, 8 or 10, 32-bit and 64-bit versions; macOS 10.9 (Mavericks) or later, 64-bit only; Linux (tested on Red Hat, OpenSUSE and Ubuntu), 64-bit only; Raspbian for Raspberry Pi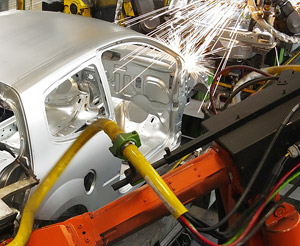 OMEGA is an industrial sensor and measurement solutions provider with over 50 years of experience. With the ability to provide a complete range of instruments and engineering services it would be difficult to find a better partner for the automotive industry.
OMEGA has a track record of providing state-of-the-art sensors and measurement instrumentation for the automotive industry. With our vast experience and knowledge in industrial applications and development of high quality measuring instruments, sensors and complete solutions...
---
* Fields marked with an asterisk are required