High accuracy class, 0.05% FS. 5-digit display, main and auxiliary screen design. AA battery power, services more than 3600 hours. 10 pressure units available:
Pa / KPa / psi / bar / pa / mBAR / mmHg / mH20 / Torr / kgf / cm². Displays the temperature, maximum and minimum value of the reference data. More
The DPG210 features a large 55x55 mm LCD screen, with 5 digit 17 mm primary and 13.5 mm auxiliary lines. It displays both the current pressure as well as the local temperature, maximum, or minimum pressures from the reference data. Powerful functions: include 10 common pressure units, adjustable acquisition rate, and flexible power supplied by either three AA batteries or via USB connection.

An ultra-low power consumption design allows the DPG210 to run more than 3600 hours when powered by three standard alkaline AA batteries. The DPG210 is an all digital design combining a high precision ADC and high-speed microprocessor. This provides a product that is high precision, with good stability and great shock resistance.
SPECIFICATIONS:
Operating Temperature: -10 to 50°C
Stability: ±0.2%FS/year
Storage Temperature: -20 to 60°C
Weight: 0.5Kg
Battery Life: 3600 hours
Burst Pressure: 4X Rated Pressure from 0 to 100 psi, 3X Rated Pressure from 200 to 5000 psi
Power: Battery (Three AA Batteries) or USB-power
Backlight Color: White
Case Material: 304SS
Case Protection: IP65
Compensation Temperature: 0 - 40°C
Dial Size: 105mm
Display Type: LCD, 5 digits
Electric Protection: EN61326
Over pressure Limits: 3X Rated Pressure from 0 to 100 psi, 2X Rated Pressure from 200 to 5000 psi.
Pressure Accuracy: ± 0.05% FS
Process Connection/Material: ¼" NPT (others consult sales), 304SS
Process Media: Gas, water, oil
Range: -0.1 to 35 MPs (-14.50 to 5000 psi)
Sampling Rate: 1-10 times/second
Temperature Accuracy: ≤ 0.5°C
The online configurator may not contain all available options. If you do not find what you are looking for, please contact us.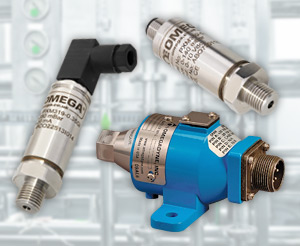 A pressure transducer, often called a pressure transmitter, is a sensor that converts pressure into an analog electrical signal. Although there are various types of transducers, one of the most common is the strain-gage wheatstone bridge pressure transducer.
The conversion of pressure into an electrical signal is achieved by the physical deformation of strain gages which are bonded into the diaphragm of the pressure transducer and wired into a wheatstone bridge configuration. Pressure applied to the transducer produces a deflection of the diaphragm which introduces strain to the gages. The strain will produce an electrical resistance change proportional to the pressure...
---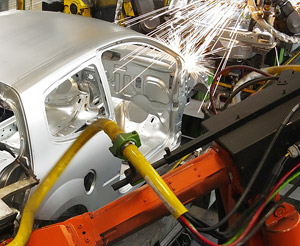 OMEGA is an industrial sensor and measurement solutions provider with over 50 years of experience. With the ability to provide a complete range of instruments and engineering services it would be difficult to find a better partner for the automotive industry.
OMEGA has a track record of providing state-of-the-art sensors and measurement instrumentation for the automotive industry. With our vast experience and knowledge in industrial applications and development of high quality measuring instruments, sensors and complete solutions...
---
* Fields marked with an asterisk are required