Barrier Strips, Thermocouple Spade Lugs and Terminal Lugs
Barrier strip jackets are colour coded to thermocouple type (IEC or ANSI). Barrier strip jackets are supplied with the correct alloy terminal lugs installed. Barrier strips supplied in packs of 6 pairs ( 6 positive alloy lugs, 6 negative). Spade lugs supplied in packs of 20. Terminal lugs supplied in packs of 20. Terminal strips available as 2, 3, 4, 5, 6, 8, 10, 12, 16 or 20 way. More
Examples of orders:
Example 1
Connection of ten pairs of thermocouples type K using terminal lugs
- Terminal lugs TLCH-20, TLAL-20
- Spade lugs SLCH-20, SLAL-20
- BS20 terminal block
Example 2
Connection of three pairs of thermocouples type K using barrier strips
- BSJ-K barrier strip
- Spade lugs SLCH-20, SLAL-20
- BS6 terminal block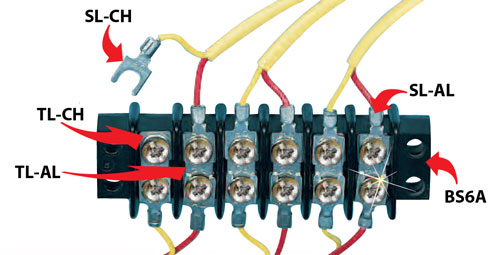 Barrier strip jackets are colour coded and supplied with correct alloy terminal lugs.
Barrier strip for thermocouple type K (ANSI):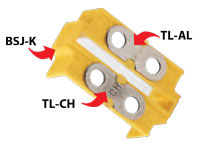 Temperature can be measured via a diverse array of sensors. All of them infer temperature by sensing some change in a physical characteristic. Six types with which the engineer is likely to come into contact are: thermocouples, resistive temperature devices (RTDs and thermistors), infrared radiators, bimetallic devices, liquid expansion devices, and change-of-state devices.
Choose the right temperature measurement instrument for your application...
---
* Fields marked with an asterisk are required