Biaxial 90° T Rosette Strain Gauges with Transducer Quality (Pack of 5)
- Termination type: ribbon leads, Resistance: 350 Ω, Grid length: 4 mm, Grid width: 4,6 mm, Compensation: ST (steel)
3-Terminal for Half Bridge or 4-Terminal for Full Bridge Applications. Conveniently Priced per Pack of 5. Rugged, High Reliability. Flexible, Small Bending Radius. Broad Temperature Range. Clear Alignment Marks. Affix with Cold or Hot Cure Adhesives. More
OMEGA™ transducer quality strain gages are available in a variety of patterns to cover most transducer design requirements. Their rugged construction, reliability and flexibility make them suitable for highly accurate static and dynamic transducers. The measuring grid is formed by specially formulated etching constantan foil, which is then completely sealed for long term reliability in a carrier medium composed of polyimide film.
The online configurator may not contain all available options. If you do not find what you are looking for, please contact us.
Complete informations can be found in the spec sheet (PDF), see the "Download" section.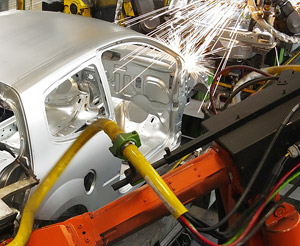 OMEGA is an industrial sensor and measurement solutions provider with over 50 years of experience. With the ability to provide a complete range of instruments and engineering services it would be difficult to find a better partner for the automotive industry.
OMEGA has a track record of providing state-of-the-art sensors and measurement instrumentation for the automotive industry. With our vast experience and knowledge in industrial applications and development of high quality measuring instruments, sensors and complete solutions...
---
* Fields marked with an asterisk are required