0.25% Interchangeable for Multiple Cell Applications. All Stainless Steel Construction. 5-Point Calibration Certificate Included. FM Approved Intrinsically Safe. More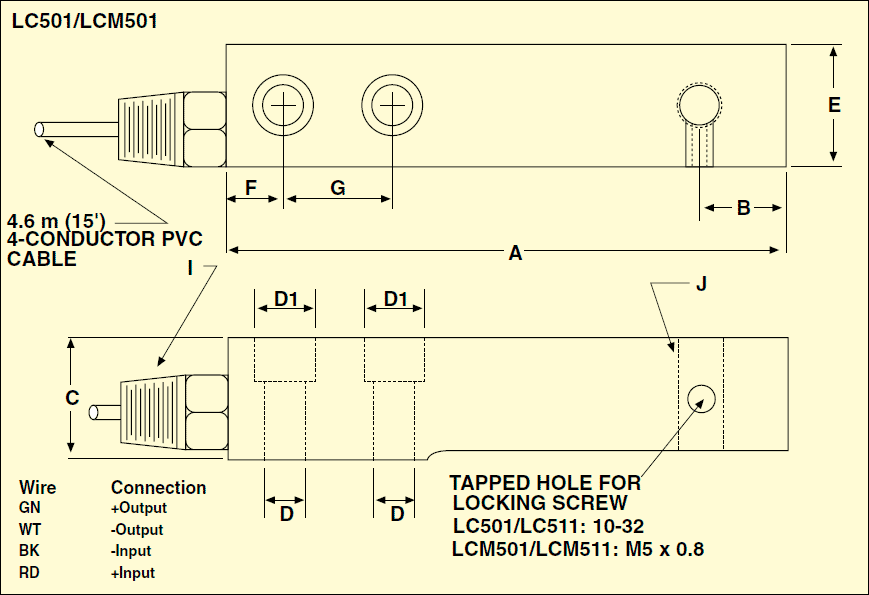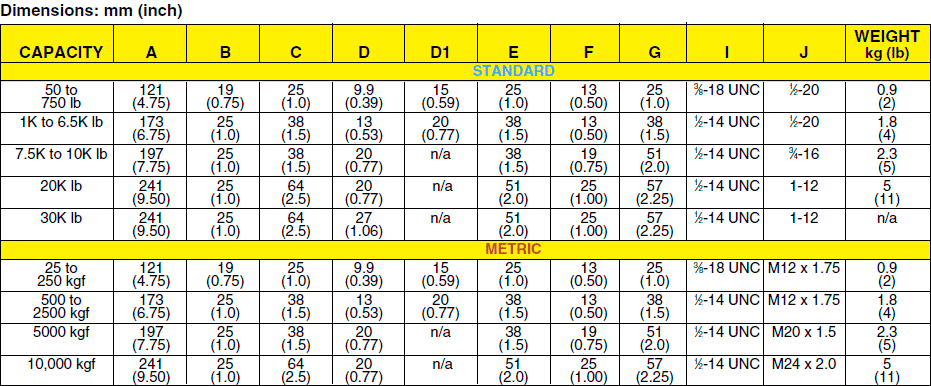 SPECIFICATIONS:
Excitation: 10 Vdc, 15 Vdc max
Output: 3 mV/V ±0.25%
5-Point Calibration: (in Compression) 0%, 50%, 100%, 50%, 0%
Linearity: ±0.03% FSO
Hysteresis: ±0.02% FSO
Repeatability: ±0.02% FSO
Zero Balance: ±1% FSO
Agency Approvals: FM Intrinsically Safe IS/I.II.III/1/CDEFG
Operating Temp Range: -34 to 82°C (-30 to 180°F)
Compensated Temp Range: 16 to 71°C (60 to 160°F)
Thermal Effects:
  Zero: ±0.0018% FSO/°C
  Span: ±0.0018% FSO/°C
Safe Overload: 150% of Capacity
Ultimate Overload: 300% of Capacity
Input Resistance: 360 Ohms minimum
Output Resistance: 350 ±10 Ohms
FS Deflection: 0.5 mm (0.02") typical
Construction: 17-4 PH Stainless Steel
Electrical: LCM501: 4.6 m (15 ft), 4-conductor shielded cable

A load cell (or loadcell) is a transducer which converts force into a measurable electrical output. Although there are many varieties of force sensors, strain gauge load cells are the most commonly used type.

Except for certain laboratories where precision mechanical balances are still used, strain gauge load cells dominate the weighing industry. Pneumatic load cells are sometimes used where intrinsic safety and hygiene are desired, and hydraulic load cells are considered in remote locations, as they do not require a power supply...
---

OMEGA is an industrial sensor and measurement solutions provider with over 50 years of experience. With the ability to provide a complete range of instruments and engineering services it would be difficult to find a better partner for the automotive industry.
OMEGA has a track record of providing state-of-the-art sensors and measurement instrumentation for the automotive industry. With our vast experience and knowledge in industrial applications and development of high quality measuring instruments, sensors and complete solutions...
---
* Fields marked with an asterisk are required