Designed to integrate with a variety of industrial and OEM applications with its compact, rugged, and SS body. Piezo-resistive ceramic diaphragm provides premium thermal compensation for minimal thermal drift. Comes with 20mm Mating DIN Connector. Perfect for applications where a 0.5% accuracy is desired. More
Ideally suited for material handling, industrial and mobile equipment applications where a small, yet rugged SS body size is desired at a reasonable price point. The body is machined from a single piece of stainless steel to provide added protection for the internal electronics as well as prevent corrosion from most applications. A piezoresistive ceramic sensor along with ASIC signal conditioning provides an excellent thermally compensated output.
Simple / Multipurpose / Compact
Monitor air brake pressure, monitor pressure/height in vehicle suspension, regulate pneumatic door operation, monitor excessive load, monitor lift operation and more...
SPECIFICATIONS
Accuracy: 0.50% BFSL Accuracy
Pressure Range: 15 to 5000 psi (345 bar)
Output/Supply Voltage: 4 to 20 mA, 8 to 30 Vdc
Output Connections: DIN 43650C (mini DIN)
Long Term Drift: <0.3% FS @ 25°C (77°F)
Thermal Error:
7.5 psi ≥ 100 psi: 0.01% FS/°F (0.018% FS/°C)
100 psi > 400 psi: 0.009% FS/°F (0.016% FS/°C)
400 psi ≥ 1000 psi: 0.011% FS/°F (0.019% FS/°C)
1000 psi > 3000 psi: 0.012% FS/°F (0.021% FS/°C)
3000 psi ≥ 5000 psi: 0.018% FS/°F (0.028% FS/°C)
Compensated Temperature: 0 to 85°C (32 to 185°F)
Operating Temperatures: -40 to 135°C (-40 to 257°F)
Process Connection: ¼ NPT male
Construction: 304 SS
Wetted Materials: 304 SS and Ceramic Al2O3, NBR Standard
Vibration: 10 g (20 to 2000 Hz) for <58 psi (4 bar); 20 g (20 to 500 Hz) for ranges >58 psi (4 bar)
Protection: Overvoltage, short circuit, reverse polarity
Response Time: 1 ms
Ingress Protection: IP65
Weight: 70 g (0.15 lb)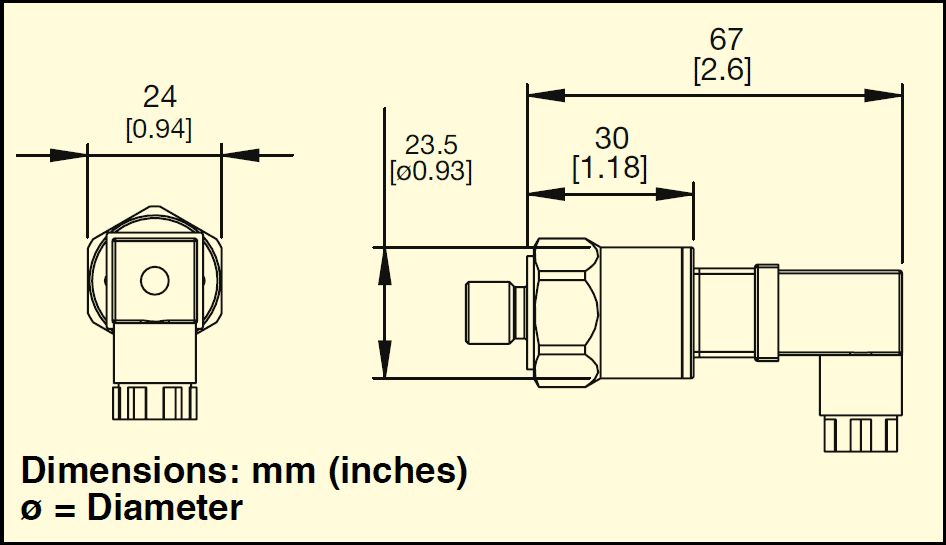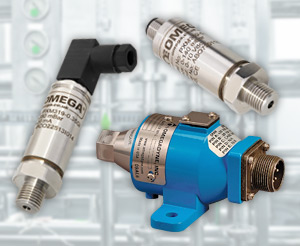 A pressure transducer, often called a pressure transmitter, is a sensor that converts pressure into an analog electrical signal. Although there are various types of transducers, one of the most common is the strain-gage wheatstone bridge pressure transducer.
The conversion of pressure into an electrical signal is achieved by the physical deformation of strain gages which are bonded into the diaphragm of the pressure transducer and wired into a wheatstone bridge configuration. Pressure applied to the transducer produces a deflection of the diaphragm which introduces strain to the gages. The strain will produce an electrical resistance change proportional to the pressure...
---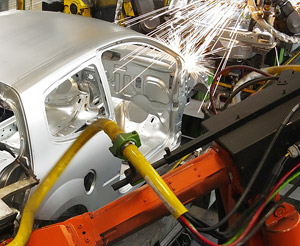 OMEGA is an industrial sensor and measurement solutions provider with over 50 years of experience. With the ability to provide a complete range of instruments and engineering services it would be difficult to find a better partner for the automotive industry.
OMEGA has a track record of providing state-of-the-art sensors and measurement instrumentation for the automotive industry. With our vast experience and knowledge in industrial applications and development of high quality measuring instruments, sensors and complete solutions...
---
* Fields marked with an asterisk are required
Accessories (3)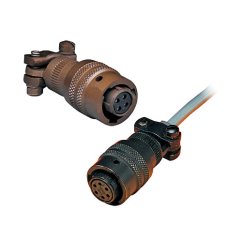 can be ordered
from € 25.10 excl. VAT
Rugged Aluminum Shells. Rated to 125°C. Strain Relief Cable Clamp. Secure Solder Contacts. #20 AWG Wire Size. High Conductivity Gold Plated…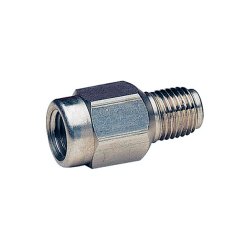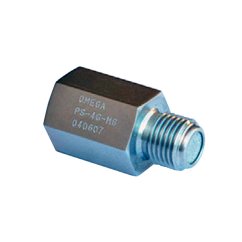 * can be ordered
from € 15.60 excl. VAT
Protects Transducers, Gauges and Switches from Pessure Spikes, Surges and Water Hammer. Available in 1/8, 1/4, or 1/2 NPT Fittings. Three…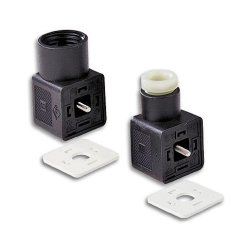 can be ordered
from € 20.70 excl. VAT
Use Where Service and Rapid Installation Are Necessary. According to DIN 43650 / ISO 4400 (EN175301-803:2000). Strain Relief Gland or…