Dual Thermocouple and RTD Pipe Plug Sensors
Two Sensors Provide Same Temperatures Signals to Different Instruments, eg, Meter and Recorder, Controller and Datalogger. 1/8" NPT Mounting. Thermocouple Types: J, K, T, E. Grounded Thermocouple Probes, Standard. Miniature Connectors. RTD models available. More
Dual Thermocouple Probe with NPT Fitting. 1/8" NPT SS fitting for installation into any standard pipe opening. Dual sensors standard for critical applications.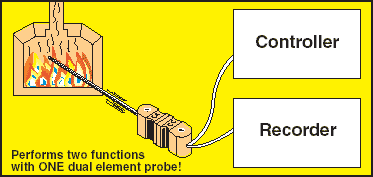 The online configurator may not contain all available options. If you do not find what you are looking for, please contact us.
Complete informations can be found in the spec sheet (PDF), see the "Download" section.
---
* Fields marked with an asterisk are required