High Accuracy Pressure Transmitter
Pressure transducer with 5-Point Traceable Calibration Certificate. High Static Accuracy, ±0.25% FS BSL (Linearity, Hysteresis and Repeatability). 40 to +85°C Operating Temperature. 4 to 20 mA Output. Micro DIN, 1.5 m Cable or M12 Electrical Connections. G 1/4 (1/4" BSPP) Male Pressure Fitting. All Stainless Steel Wetted Parts with IP65 or IP67 Environmental Rating (depending upon model). Rugged Design for Industrial Applications. For 0-10 Vdc Output Models Click here. Vacuum ranges are also available. RoHS Compliant. More
The online configurator may not contain all available options. If you do not find what you are looking for, please contact us.
OMEGA's pressure transducer PXM309 series industrial combine two of our precision manufacturing techniques. Low pressure ranges from 0-70 mbar up to 0-3.5 bar, and absolute ranges to 20 bar use a precision micromachined silicon sensor protected by a stainless steel diaphragm. A thin film of oil transfers the pressure and assures the high accuracy and stability of the sensor. Medium and high Gauge pressure ranges, from 0-7 bar up to 0-700 bar, use precision semiconductor strain gauges that are fused directly to the stainless steel diaphragm yielding a rugged, durable bond that assures long life and high stability.
The PXM309 series transducers are available in absolute, or gauge (relative) pressure and are sealed to an IP65 or IP67 environmental rating, depending on the model.(See table below).
SPECIFICATIONS:
Supply Voltage Reverse polarity and over voltage protected
0 to 10 Vdc Output: 15 to 30 Vdc at 10 mA
4 to 20 mA: 9 to 30 Vdc
Static Accuracy 350 mB to 700 bar: ±0.25% FS BSL at 25°C
(includes linearity, hysteresis and repeatability)
Long Term Stability (1 yr): ±0.25% FS
Total Error Band1
    70 mB: ±4.5% Gauge
    140 mB: ±3% Gauge
    350 mB: ±1.5% Gauge and absolute
    1 to 20 bar: ±1% absolute
    1 to 700 bar: ±1% Gauge
(Total error band includes all accuracy errors, thermal errors, span and zero tolerances)
Isolation (Body to Any Lead): 1 MΩ at 25 Vdc
Pressure Cycles: 1 x 107 full scale cycles
Pressure Overload
    70 mB to 3.5 bar Gauge: 3 x rated pressure or 1.38 bar whichever is greater
    350 mB to 20 bar Absolute: 3 x rated pressure or 1.38 bar whichever is greater
    7 to 700 bar Gauge: 2 x rated pressure
Burst Pressure
    70 mB to 3.5 bar Gauge: 5 x rated pressure or 1.72 bar whichever is greater
    350 mB to 20 bar Absolute: 5 x rated pressure or 1.72 bar whichever is greater
    7 to 700 bar Gauge: 5 x rated pressure
Compensated Temperature
    70 to 350 mbar Gauge/Abs: 0 to 50°C
    1 to 700 bar Gauge: -20 to 85°C
    1 to 20 bar Absolute: -20 to 85°C

Operating Temperature: -40 to 85°C
Response Time: 1 mS
Bandwidth: DC to 1 kHz typ.
Pressure Connection: G ¼ Male (1/4" BSPP)
Wetted Parts
    70 mB to 3.5 bar Gauge: 316 SS
    350 mB to 20 bar Absolute: 316 SS
    7 to 700 bar Gauge: 17-4PH SS
CE Compliant: EC55022, EC55011 Emissions Class A&B
IEC: 61000-2,-3,-4,-5,-6,&-9
Shock: 50 g 11 mSec half sine shock
Vibration: ± 20 g

ROHS Compliant: Yes
Weight: Typical 150 g depending upon configuration

Electrical Connections
PXM309: 1.5 m long 2 or 3-core cable, mA or 10V outputs, respectively
PXM319: mini DIN connector with mating connector included
PXM359: M12 4-pin connector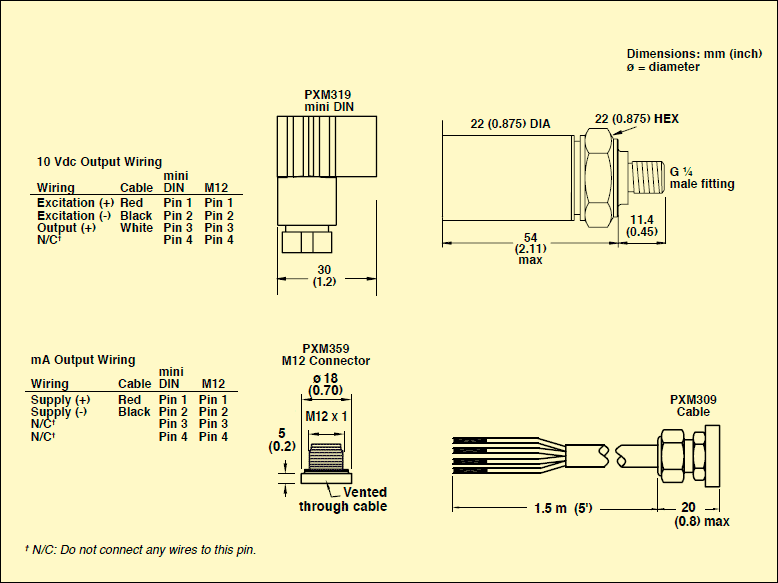 Complete informations can be found in the spec sheet (PDF), see the "Download" section.
Option Descriptions:
(1) Model select from:
PXM309 for Cable model
PXM319 for Micro DIN model
PXM359 for M12 model

(2) Pressure select from:
-0.35A for Absolute 350 mbar
-001A for Absolute 1 bar
-002A for Absolute 2 bar
-3.5A for Absolute 3.5 bar
-007A for Absolute 7 bar
-015A for Absolute 15 bar
-020A for Absolute 20 bar
-0.07G for Gauge 70 mbar
-0.14G for Gauge 140 mbar
-0.35G for Gauge 350 mbar
-001G for Gauge 1 bar
-002G for Gauge 2 bar
-3.5G for Gauge 3.5 bar
-007G for Gauge 7 bar
-010G for Gauge 10 bar
-015G for Gauge 15 bar
-020G for Gauge 20 bar
-035G for Gauge 35 bar
-070G for Gauge 70 bar
-140G for Gauge 140 Bar
-200G for Gauge 200 bar
-350G for Gauge 350 bar
-500G for Gauge 500 bar
-700G for Gauge 700 bar

(3) Output select from:
10V for 0 to 10 Vdc output
I for 4 to 20 mA
Note:
All combinations may not be valid, check spec sheet for valid part numbers.

A pressure transducer, often called a pressure transmitter, is a sensor that converts pressure into an analog electrical signal. Although there are various types of transducers, one of the most common is the strain-gage wheatstone bridge pressure transducer.
The conversion of pressure into an electrical signal is achieved by the physical deformation of strain gages which are bonded into the diaphragm of the pressure transducer and wired into a wheatstone bridge configuration. Pressure applied to the transducer produces a deflection of the diaphragm which introduces strain to the gages. The strain will produce an electrical resistance change proportional to the pressure...
---

OMEGA is an industrial sensor and measurement solutions provider with over 50 years of experience. With the ability to provide a complete range of instruments and engineering services it would be difficult to find a better partner for the automotive industry.
OMEGA has a track record of providing state-of-the-art sensors and measurement instrumentation for the automotive industry. With our vast experience and knowledge in industrial applications and development of high quality measuring instruments, sensors and complete solutions...
---
* Fields marked with an asterisk are required
Accessories (3)

can be ordered
from € 23.20 excl. VAT
Rugged Aluminum Shells. Rated to 125°C. Strain Relief Cable Clamp. Secure Solder Contacts. #20 AWG Wire Size. High Conductivity Gold Plated…


can be ordered
from € 14.30 excl. VAT
Protects Transducers, Gauges and Switches from Pessure Spikes, Surges and Water Hammer. Available in 1/8, 1/4, or 1/2 NPT Fittings. Three…

can be ordered
from € 19.10 excl. VAT
Use Where Service and Rapid Installation Are Necessary. According to DIN 43650 / ISO 4400 (EN175301-803:2000). Strain Relief Gland or…