Mini Thermocouple Connector with Cable Clamp
Mini connectors with Integral Cap, Strain Relief + Cable Clamp. New Labour Saving Wire Assembly. Accepts Wide Range of Wire Sizes. Contact Washers for Fast & Easy Wire Termination. Write-On Window for Sensor ID. Captive Screws Combination Phillips/Slot. IEC or ANSI colour codes available. More
Omega SMPW thermocouple connectors are 2 pin flat mini TC plugs and sockets designed to connect temperature sensor instrumentation with a temperature controller or process control HMI automation panel. Compatible with any other similarly sized 2 pin Male TC plug or female 2 pole TC socket.
The connectors are also designed for use with Pt100 and thermistors, select uncompensated type U.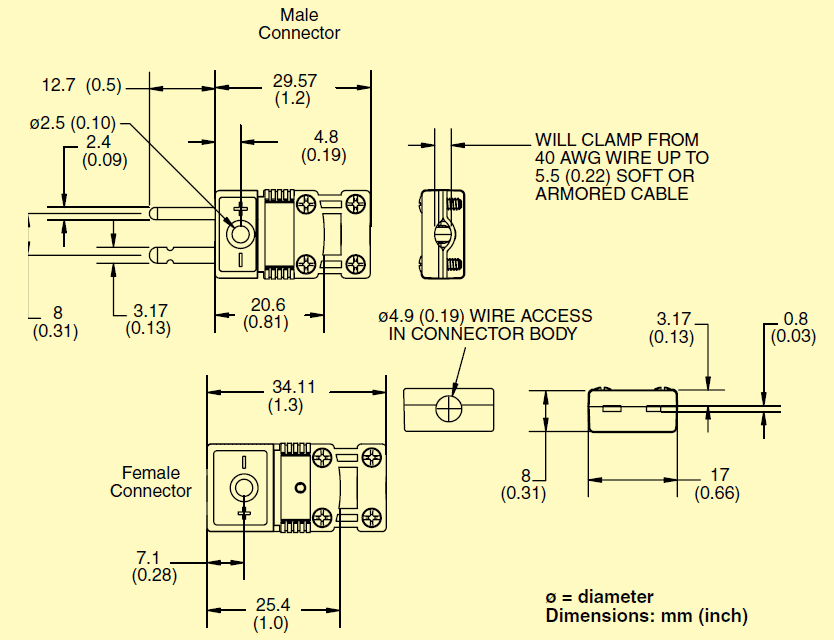 This thermocouple connector design is ideal for fast and easy connection of TC wire or thermocouple cable via a TC cable clamp assembly. The cap/clamp contains the 4 captive screws and eliminates the small loose screws typical with the traditional metal thermocouple cable clamp. Included are a metal clamp plate, strain relief and grommets.
For Bulk packaging, the Connector & Clamp grommets Sold Separately 
Standard supply is ANSI version, if you want to order IEC version, please state this in the note.
Complete informations can be found in the spec sheet (PDF), see the "Download" section.

Temperature can be measured via a diverse array of sensors. All of them infer temperature by sensing some change in a physical characteristic. Six types with which the engineer is likely to come into contact are: thermocouples, resistive temperature devices (RTDs and thermistors), infrared radiators, bimetallic devices, liquid expansion devices, and change-of-state devices.
Choose the right temperature measurement instrument for your application...
---

OMEGA is an industrial sensor and measurement solutions provider with over 50 years of experience. With the ability to provide a complete range of instruments and engineering services it would be difficult to find a better partner for the automotive industry.
OMEGA has a track record of providing state-of-the-art sensors and measurement instrumentation for the automotive industry. With our vast experience and knowledge in industrial applications and development of high quality measuring instruments, sensors and complete solutions...
---
* Fields marked with an asterisk are required