Modbus Compatible Smart Probe Interface to RS485 serial
Modbus to Smart Probe Interface. Provides RS485 serial interface supporting Modbus RT and command line interpreter. Configurable with Serial Terminal or SYNC configuration software. More
The IF-002 provides seamless integration of your Layer N Smart Probe to your Modbus network. The IF-002 utilizes a standard M12 5-pin B code connector for RS485 serial transmission and an M12 8-pin connector for Layer N Smart Probes.
The M12 8-pin connector provides power for external Layer N Smart Probes with an integrated power monitor to protect against short circuits.
Intuitive Configuration
An integrated command line interface allows for quick serial setup of your IF-002 and smart probe, register configuration, and monitoring using standard terminal emulators. Intuitive configuration is also available through SYNC configuration software.
Compatibility
The IF-002 is fully compatible with SYNC configuration software, the Layer N Ecosystem of devices, Omega Enterprise Gateway, and Layer N Cloud.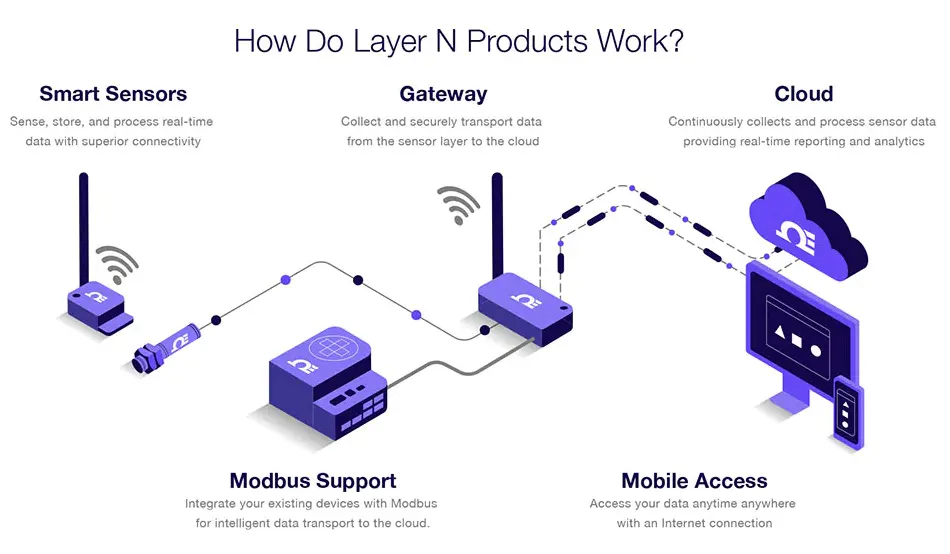 SPECIFICATIONS:
RS485 Serial Port
Baudrate: 9600, 19200, 34800,115200
Parity: : Even, Odd, Mark, None
Data Bits: 7, 8
Stop Bits: 1, 2
Protocol: Modbus RTU, Command Line Interpreter

Input power voltage: 5VDC - 36 VDC
Output to smart probe: 100 mA max @ 3.0 ±5%

Operating Temperature: -40 to 85℃ (-40 to 185℉)
Rating: IP67 when mated
Dimensions: 22.1 mm W x 96.7 mm L (0.87" x 3.80") not including mounting tabs
Agency Approvals: CE, EMC 2014/30/EU, LVD 2014/35/EU
Compatibility: Compatible with OEG, SYNC configuration software, Layer N Cloud, and Modbus Networks
---
* Fields marked with an asterisk are required