Custody Transfer with Audit Trail. Liquid, Gas, Steam, and Heat Flow Equations. Menu Selectable Hardware Inputs/Outputs. Isolated Pulse and Analog Outputs Standard. More
The new Model FC-21 multifunction batcher and the Model FC-22 flow computer satisfy instrument requirements for a variety of flow meter applications. Omega offers many different types of flowmeters: paddlewheels, turbines, positivie displacement, annemometers, mass flow, etc. for many application solutions.
The Model FC-21 flow computer is suitable for liquid batching, volumetric batching, and corrected volume applications. The Model FC-22 was designed for liquid, gas, steam, and heat applications. Multiple flow equations are stored in both models. These versatile flow computers are user programmable from the front panel. The user assigns hardware inputs and outputs to suit the particular application during setup.
Isolated analog output can be chosen to follow the volume flow, corrected volume flow, mass flow, temperature, pressure or density by means of menu selection. The standard RS-232 serial port for datalogging, transaction printing, or for connection to a modem for remote meter reading can also be assigned by this method.
The online configurator may not contain all available options. If you do not find what you are looking for, please contact us.
SPECIFICATIONS
Environmental
Operating Temperature: 0 to 50°C (32 to 122°F)
Storage Temperature: -40 to 85°C (-40 to 185°F)
Relative Humidity: 0 to 95%, non-condensing
Display Type: Alphanumeric, 2 lines, 7.6 mm (0.3") characters, backlit LCD or VFD (specify at time of order)
Mounting: Panel, wall mount
Power Supply:
    FC-21: 220 Vac (110 Vac) standard (12 or 24 Vdc optional)
    FC-22: 85 to 275 Vac standard (24 Vdc optional)
Signal Inputs
Pulse:
    High-Level Pulse: Low = 0 to 1 Vdc; high = 3 to 30 Vdc
    Low-Level Pulse: 10 mV or 100 mV (magnetic pickup)
Frequency: Up to 20 kHz
Analog
Voltage: 0 to 10 Vdc, 0 to 5 Vdc, 1 to 5 Vdc (FC-21 only)
Current: 4 to 20 mA, 0 to 20 mA Temperature Input
RTD: 100 ? DIN RTD
Auxiliary/Compensation:
    FC-21: Temperature, density
    FC-22: 2 temperature, pressure, density
Excitation Voltage:
    FC-21: Programmable—5 Vdc, 12 Vdc or 24 Vdc @ 100 mA,
    FC-22: Fixed @ 24 Vdc
Relays: Menu assignable for each relay; 2 SPDT relays rated 5 A, 240 Vac or 30 Vdc; Contact Flow Engineering for additional information
Isolated Output: Menu assignable
Analog: 4 to 20 mA; 1000 ? max load
Pulse: Open collector; 24 Vdc (FC-22 only)
Complete informations can be found in the spec sheet (PDF), see the "Download" section.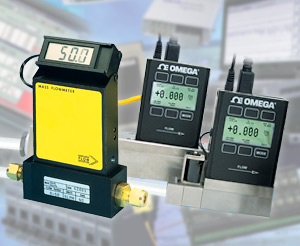 A thermal mass flow meter measures the flow rate of gas mass based on the convective heat transfer of a heated surface to the flowing fluid. The components of a basic thermal mass flow meter include two temperature sensors with an electric heater between them. The heater can protrude into the fluid stream or can be external to the pipe.
In the past, mass flow was often calculated from the outputs of a volumetric flow meter and a densitometer. Density was either directly measured, or was calculated using the outputs of process temperature and pressure transmitters...