RTD Pt100 Data Logger with 4, 8, 12 or 16-channels
±0.04°C Calibrated Accuracy. Accepts 2, 3 and 4-wire RTD's. Real time Operation. Up to 4 Hz Reading Rate. Pushbutton or Programmable Start Time. NIST Traceable Calibration Certificate Included. Configurable Channel Names. External Power or User Replaceable Battery. Does not require a communication interface, connects to the PC directly with a standard USB cable. More
The new OM-CP-RTDTempX Series consists of 4, 8, 12 and 16-channel RTD Temperature data logger with a reading rate of up to 4 Hz. X-Series devices ship with a standard USB-A to Micro USB cable for use with free OM-CP PC based software (no longer requires the OM-CP-IFC200 communication interface like previous models). The X-series has a high memory capacity and increased download speed compared to previous generations of product.
These easy-to-use devices feature an 18 month typical battery life, user replaceable battery and programmable engineering units. The storage medium is non-volatile solid state memory, providing maximum data security even if the battery becomes discharged. To maximize memory capacity, users can enable or disable channels. For easy identification, each channel can be named with up to a ten digit title.
Using the OM-CP Data Logger Software, starting, stopping and downloading from the OM-CP-ProcessX Series data loggers is simple and easy. Graphical, tabular and statistical data is provided for analysis and data can be viewed in multiple units, using the Engineering Units function. The data can also be automatically exported to Excel® for further calculations.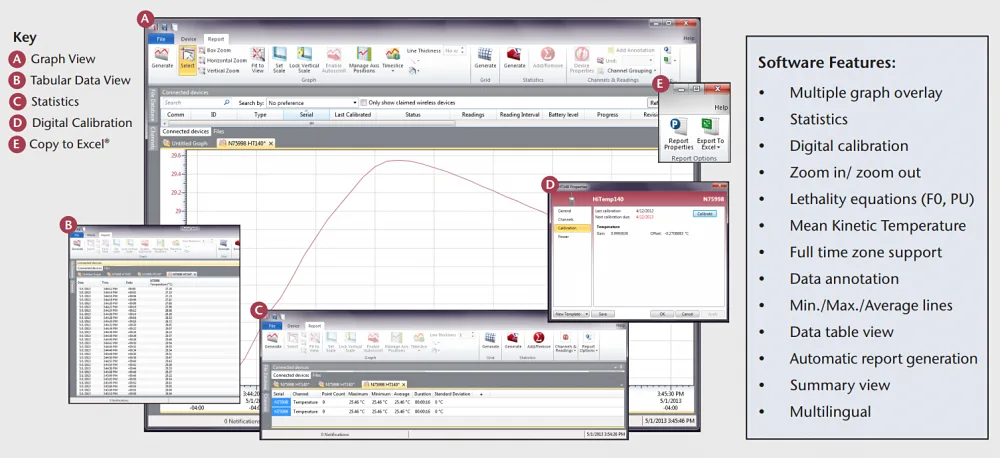 If you are interested in temperature calibration, also order the appropriate Pt100 probes for the required number of channels.
SPECIFICATIONS:
TEMPERATURE
Temprature Range*: 18.5 Ω to 390.5 Ω; -200°C to +850°C (Probe Dependent)
Temprature Resolution: 0.0001 Ω; 0.001°C (Probe Dependent)
Calibrated Accuracy**: ±0.015 Ω @ 25°C ambient; ±0.04°C (Probe Dependent)
Specified Accuracy Range: 18.5 Ω to 175.9 Ω; -200°C to +200°C
Input Connection: removable screw terminal; 2, 3 or 4 wire interface
Temprature Coefficient: 2 ppm/°C typical
* Temperature specifications based on ideal 100 Ω Pt RTD compliant with IEC 751 (1983) and ITS-90, 5000 Ω FSR (accuracy based on 36 inch lead wire RTD with4 wire configuration)
** Calibrated accuracies based on standard Omega calibrations for 0 Ω to200 Ω range
GENERAL
Memory (All channels enabled):
4-channel: 698,709 readings per channel
8-channel: 349,354 readings per channel
12-channel: 232,903 readings per channel
16-channel: 174,677 readings per channel
Start Modes: software programmable immediate start or delay start, up to 6 months in advance
Real Time Recording: may be used with PC to monitor and record data in real time
LEDs: 1 per channel and 2 status LEDs
Reading Rate: 4 Hz up to 1 reading every 24 hours
Calibration: digital calibration through software; date automatically recorded within device
Battery: 9V lithium included, user replaceable; life 18 months typical
Data Format: date and time stamped C,℉,K,˚R;Ω µV engineering units specified through software
Time Accuracy: ±1 minute/month
Computer Interface: USB-A to micro USB cable (included); 460,800 baud
Operating System Compatibility: Windows 7/8/10
Operating Environment: -20°C to +60°C; 0% RH to 95% RH non-condensing
Dimensions:
4 and 8 channel: 65.6 mm × 184.2 mm × 31.0 mm
12-channel: 65.6 mm × 184.2 mm × 42.7 mm
16-channel: 65.6 mm × 184.2 mm × 54.4 mm
Weight:
4 and 8 channel: 368 g
12-channel: 580 g
16-channel: 800 g
Enclosure: Black anodized aluminum
Approvals: CE, ROHS
For complete technical specifications, see the spec sheet in the "Downloads" section.

Technically speaking, a data logger is any device that can be used to store data. This includes many data acquisition devices such as plug-in boards or serial communication systems which use a computer as a real time data recording system. Most instrument manufacturers, however, consider a datalogger a stand alone device that can read various types of electrical signals and store the data in internal memory for later download to a computer.
The advantage of data loggers is that they can operate independently of a computer, unlike many other types of data acquisition devices. Data loggers are available in various shapes and sizes...
---

OMEGA is an industrial sensor and measurement solutions provider with over 50 years of experience. With the ability to provide a complete range of instruments and engineering services it would be difficult to find a better partner for the automotive industry.
OMEGA has a track record of providing state-of-the-art sensors and measurement instrumentation for the automotive industry. With our vast experience and knowledge in industrial applications and development of high quality measuring instruments, sensors and complete solutions...
---
* Fields marked with an asterisk are required