Small Diameter Thermocouple Probes with Compact Transition
Well Suited for Applications where Space is Limited. Compact Transition Joint - 4.5 mm dia. x 30 mm. J, K, T, E and N types available. Made from Special Limits of Error Material. Sheath Diameters from 0.25 mm. 304SS or Inconel 600 Sheath. Grounded, Ungrounded or Exposed Junction. 1 m PFA-Coated Stranded Lead Wires, 24 AWG. Miniature Connector Available. Also Available in Super OMEGACLAD™ XL (only K, N types) for Stable, Long-Term Operation at High Temperatures. More
Thanks to their compact dimensions, the TJC36 series thermocouple probes are suitable for space limited applications. The compact transition joint has a diameter of only 4.5 mm and a length of 30 mm. Thermocouple probes are available in calibrations J, K, T, E and N with 304SS, Inconel 600 or Super OMEGACLAD™ XL sheath (only K, N types) for stable, long-term operation at high temperatures. Probes are made of SLE material with increased accuracy.
OMEGACLAD™ XL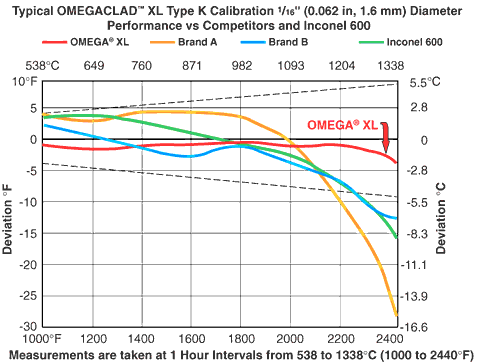 Comes with bare stripped ends as standard. You can order the probe, including the installation of connector. Put the required connector in the basket together with the probe. If needed, order the required connector separately, see "Accessories" below.
The online configurator may not contain all available options. If you do not find what you are looking for, please contact us.
Complete informations can be found in the spec sheet (PDF), see the "Download" section.
---
* Fields marked with an asterisk are required