Small Diameter Thermocouple Probes with Molded Miniature Connectors
Sheath Diameters from 0.25 mm to 1.0 mm. Standard Lengths 150 mm and 300 mm. Mating Connector and PCLM Cable Clamp Sold Separately. More
OMEGA's Quick Disconnect Thermocouples with Miniature Connectors are high quality, economical thermocouple probes. They feature a glass filled nylon connector. The probes are available with diameters as small as 0.25 mm and as large as 1.0 mm.
Steinless Steel 304, 310, 316, 321, Inconel 600 or Super OMEGACLAD™ Sheath. Grounded, Ungrounded or Exposed Junction. Color-Coded SMPW Miniature Connector Termination. Made from Special Limits of Error Material.  Glass Filled Nylon Connector Body Rated to 220°C. Custom Lengths Available.
The online configurator may not contain all available options. If you do not find what you are looking for, please contact us.
Note: Mating Connector and PCLM Cable Clamp Sold Separately.
Super OMEGACLAD™ Sheat Advantages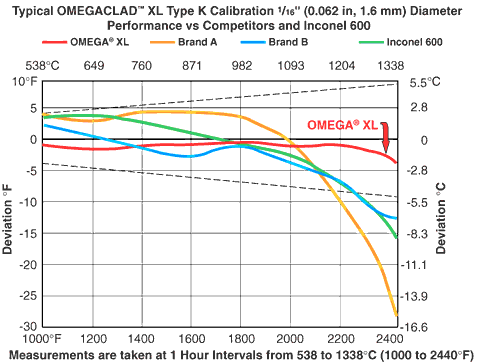 Complete informations can be found in the spec sheet (PDF), see the "Download" section.

---
* Fields marked with an asterisk are required