Super OMEGACLAD™XL Mineral Insulated Thermocouple Cable
MI Cable with Excellent Long Term Stability at High Temperatures. Continuous use up to 1150°C. Excellent Oxidation, Carburization and Chlorination Resistance. High Purity MgO (HP) Available. Low Drift Stable Output Performance. Class 1 or Class 2 IEC Tolerance Available. Available in Thermocouple Types K or N. Cut to Length or Long Continuous Lengths. More
Super OMEGACLAD™ XL sheathed mineral-insulated thermocouple wire (MI cable) can be used at high temperatures for prolonged periods with very little drift of the base metal thermocouple. The sheath material uses Nickel-Chrome based Super OMEGACLAD™ XL sheathing, which provides excellent oxidation resistance. The sheath can withstand long-term exposure to combustion gases or air at temperatures up to1150°C. Short-term exposures to higher temperatures are also possible.
Superior resistance to oxidation attack results from a tenacious and protective high temperature film that does not affect the stability of the thermocouple alloys. This film permits the sensor to be used at high temperatures for prolonged periods with improved accuracy over other available sheath materials. Super OMEGACLAD™ sheathing also provides excellent resistance to corrosion in high temperature chlorine-contaminated oxidizing environments and ammonia/nitride-rich environments at temperatures above 980°C, the temperature at which the protective film forms.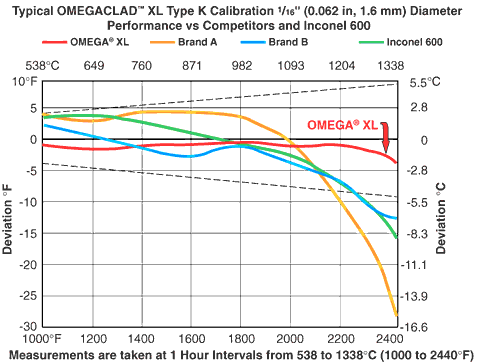 The online configurator may not contain all available options. If you do not find what you are looking for, please contact us.
Complete informations can be found in the spec sheet (PDF), see the "Download" section.
---
* Fields marked with an asterisk are required