Ultra Miniature Smart IR Temperature Sensor
Fully Integrated Microprocessor based Smart Digital Sensor solution. Rugged, Compact and easily mountable IP67 Enclosure. Plug-n-Play connectivity and easy setup with Free SYNC Software. M12 quick connect for quick easy connection/disconnection in industrial environments. Internal data logging. Optional discrete I/O configurable for alarms, switch inputs and control signals. Available in 10:1 or 6:1 FOV. Interface required to operate. If-001 USB wired interface. XW series wireless interface. More
The Omega Smart IR Temperature Probe is a miniature infrared sensor that measures the surface temperature of a solid or liquid without contact. It can measure non- metal surfaces between -70 to 380°C. It also features a built-in sensor to measure the ambient temperature of the probe itself. Materials including paper, thick plastics, rubber, food and organic materials, as well as painted metals and most dirty, rusty or oily surfaces, are measured accurately, safely and cleanly.
The Smart Probe is packaged into a rugged 12 mm OD x 67 mm long compact, stainless steel, IP67 (NEMA 6) housing - designed for heavy industrial use while taking up the least amount of space for easy installation. Standard features include: easy configuration through free Sync configuration software, adjustable emissivity and filtering, and a wide operating temperature range of -40°C to 85°C.
OMEGA Smart Core
We've integrated an advanced suite of IIoT centric featured electronics called Smart Core. These features enable plug and play connectivity, fully featured alarms and notifications, data assurance and data storage.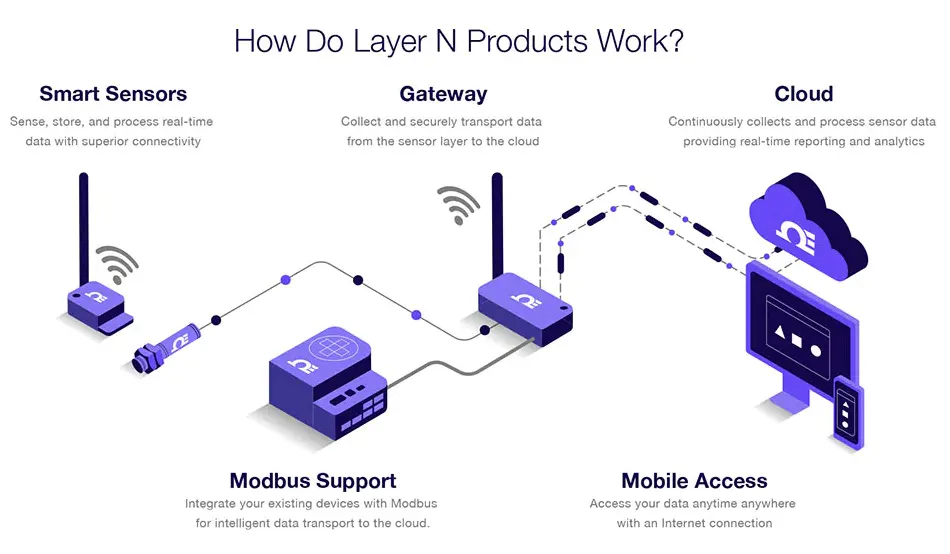 Omega Enterprise Gateway
The Smart Probes's OEG support make it ideal for asset monitoring and predictive maintenance applications. It can be connected to a PC or server where OEG software can reside for data display, long-term data logging, alarming, and analytics. OEG is available without OPC UA/DA as a Standard free version.
Variants
The Smart IR Temperature Probe is available with two choices of optical field of view, either 6:1 or 10:1. Versions with 2 configurable digital I/O pins are also available. These can be configured as either Inputs or Outputs and can be used for a myriad of applications including driving relays, physical alarms, or sensing dry contacts like door switches. The SP-001 may be configured to act as an edge controller, generating local alarm and control signals based on sensor inputs.
| | | | |
| --- | --- | --- | --- |
| P/N | FOV | Discrete I/O Pins | Description |
| SP-001-0 | 6:1 | None | Smart Probe IR, 6:1 field of view |
| SP-001-1 | 6:1 | 2 | Smart Probe IR, 6:1 field of view, with discrete I/O |
| SP-002-0 | 10:1 | None | Smart Probe IR, 10:1 field of view |
| SP-002-1 | 10:1 | 2 | Smart Probe IR, 10:1 field of view, with discrete I/O |
Interface
The Smart IR Temperature Probe requires an interface to operate. There is wired or wireless options available as shown in the table below:
| | |
| --- | --- |
| P/N | Description |
| IF-001-0 | Smart Probe USB interface |
| XW-ED | 2.4 GHz Wireless Transmitter, Smart Probes |
| XW-ED-PRO | 2.4 GHz Wireless Transmitter and Edge Controller, Smart Probes |
Smart Probe Configuration Using SYNC Software
SPECIFICATIONS:
Temperature Range: -70 to +380°C
Accuracy @ Ambient of 0-50°C: 1°C or 1% of reading, whichever is greater
Accuracy Over Entire Ambient Operating Range: 4°C or 3% of reading, whichever is greater
Repeatability: 1°C or 1% of reading
Emissivity: 0.01 to 1.00, software adjustable
Response Time: 30 to 1500 msec, adjustab
Spectral Response: 5.5 to 14 microns
Field of View: SP-001 is 6:1; SP-002 is 10:1
Construction: Stainless Steel
Thread Mounting Dimensions: 12 OD x 114 mm L
Weight: 35 g
Environmental Rating: NEMA 6, IP67
Acceleration Test: 10 g (10 to 500Hz)
Operating Temperature: -40 to 85°C (less than 95% RH, non-condensing)
Agency Approvals: CE, EMC 2014/30/EU, LVD 2014/35/EU
Compatibility: Compatible with OEG and SYNC configuration software

Industrial Internet of Things or IIoT is a prerequisite for industries looking to embrace digital transformation. It is through this connected ecosystem that businesses gain increased visibility in their processes, ensure equipment uptime, perform predictive maintenance, and increase productivity and profitability.
However, realizing these benefits through smart factory initiatives is more challenging than it may seem. The most common obstacle is collecting operational data from legacy machines and communicating that data to the cloud...
---
* Fields marked with an asterisk are required
Accessories (2)
Quick info
Usually in Stock

can be ordered
€ 50,80 excl. VAT
USB Serial to Smart Sensor Interface. Sync by Omega and Omega Enterprise Gateway support. Modbus RTU, Modbus ASCII compatible. Integrated…
Quick info
Usually in Stock


can be ordered
€ 111,40 excl. VAT
Modbus to Smart Probe Interface. Provides RS485 serial interface supporting Modbus RT and command line interpreter. Configurable with…