Temperature, Humidity, Barometric Pressure, and Light sensors. Free Layer N Standard Cloud service accessible from any connected device. Easy setup with one-button pairing. Transmits up to 1.2 km with standard AA batteries. Transmits up to 3.2 km when powered with 5V USB. AES-256 Encrypted wireless link keeps your data secure. Local data logging up to 10,649 data points. More
Layer N SS-001 Smart Sensors utilize precision internal sensing elements (Temperature, Humidity, Barometric Pressure, Light) to accurately measure environmental conditions for a wide range of applications.
Long Range
The Wireless Gateways utilize Sub GHz Frequency Hopping Spread Spectrum (FHSS) technology to ensure robust, long range communications to Layer N Smart Sensors. Transmission ranges of up to 1.2 km can be achieved when the sensor is powered with the standard AA batteries, and transmission ranges of up to 3.2 km can be achieved with a Smart Sensor in range boost mode powered by a standard external 5V USB power supply.
Plug and Play
Layer N Smart Sensors are easily paired to the Layer N Gateway with the press of a button, and will automatically show up on your Layer N Cloud Account. Local data logging for your Smart Sensor devices keeps your data secure in the event of a power or network outage. Reports, History, and E-mail alerts from the Layer N Cloud keep you informed on the status of all your vital processes.
Secure
Layer N wireless products are designed with state of the art security features to protect your data with robust AES256 encryption and advanced PKA-EC521bit (NIST) elliptic-curve cryptography to protect your data. The gateway features a TPM (Trusted Platform Module) secure hardware element which protects the safety of all encryption keys and usesX.509 device certificates for secure communication between the gateway and the Layer N Cloud.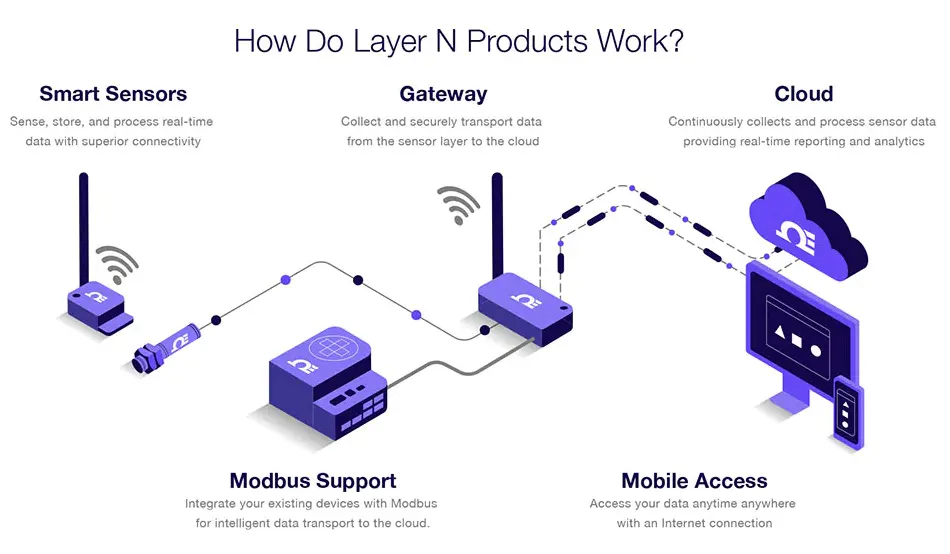 Advanced Features
Advanced Omega Level N features may be configured through SYNC software and include selective data extraction, measurement and device traceability, local alarms and adaptive transmission rates to reduce data congestion and extend battery life.
Your Data at a Glance with Layer N Cloud
Layer N Cloud consolidates and brings your data to you when you need it, wherever you are. The intuitive cloud interface allows you to monitor and store your data, set alarms and alerts, and provides insights on device activity.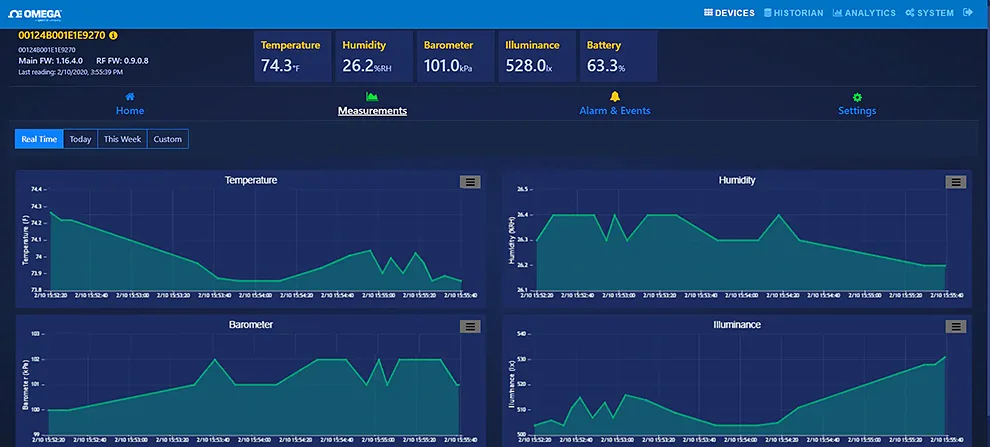 Base Sensor vs Layer N Smart Sensor:
SPECIFICATIONS:
Wireless Communication Frequency: 868 MHz
Range: Up to 3.2 km (when powered by USB, without obstruction)
Power:
  Alkaline Battery: 2x AA batteries (included); Lifetime: Up to 1.5 years with frequency of 1 reading per hour
  USB Power*: 500mA @ 5V (Micro USB cable not included)
Operating Conditions for Base Unit:
Battery Powered: -15°C to 55°C, non-condesning
USB Power: -20°C to 65°C, non condensing
Rating: IP40
Software: Compatible with SYNC configuration software and Layer N Cloud


Measurement

Range

Accuracy

Temperature
-20°C to 70°C
±0.3°C
Humidity @ 25°C
0% to 80%
±2.5%
80% to 100%
±3.5%
Barometric Pressure @ 25°C
700 mbar to 1100 mbar
±4 mbar
Barometric Pressure @ Full
Range
300 mbar to 1100 mbar
±6 mbar
Light
0-43691 illuminance
Relative level only
---
* Fields marked with an asterisk are required