Wireless Universal Smart Probe Interface
Robust Long-Range Sub GHz Communications. Modular M12 Connectivity with Layer N Smart Probes. Wireless Communication up to 3.2 km. IP65 NEMA 4 Environmental Rating. Password Protection for data. Up to 5-year battery life. More
The Layer N IF-006 Interface is designed to be used in conjunction with Layer N Smart Probes. The two elements snap together with a twist of an M12 connector to create a universal solution for any sensor application. Sensor installations can be further customized using M12 modular extension cables to quickly tailor solutions for any application. A wide variety of Layer N Smart Probes are available to create a customized wireless solution that fits your application. Including temperature, humidity, pressure, light, thermocouple, RTD, process, count, pulse, load cell, heat flux, and more.
Plug and Play
The IF-006 is easily paired to the Layer N Gateway with the press of a button and will automatically show up on your Layer N Cloud account. The Layer N Gateway can connect up to 256 Smart Sensors3 per unit. Local data logging keeps your data secure in the event of a power or network outage. Reports, History, and E-mail alerts from the Layer N Cloud keep you informed on the status of all your vital processes.
Intuitive Configuration
Configure your Layer N Smart Probes using your IF-006 and our free SYNC configuration software. An integrated Command Line Interface allows for quick serial configuration and monitoring of your IF-006 using any standard terminal emulator.
Compatibility
The IF-006 is fully compatible with the Layer N ecosystem of devices, SYNC configuration software, and the Layer N Cloud.
Security and Access Control
Layer N wireless products are designed with state of the art security features to protect your data with robust AES256 encryption and advanced PKA-EC521bit (NIST) elliptic-curve cryptography to protect your data. Password protection ensure that access to device data is restricted and only accessible by authorized users. Device Authentication ensures that Layer N Smart probes connect to validated Omega devices.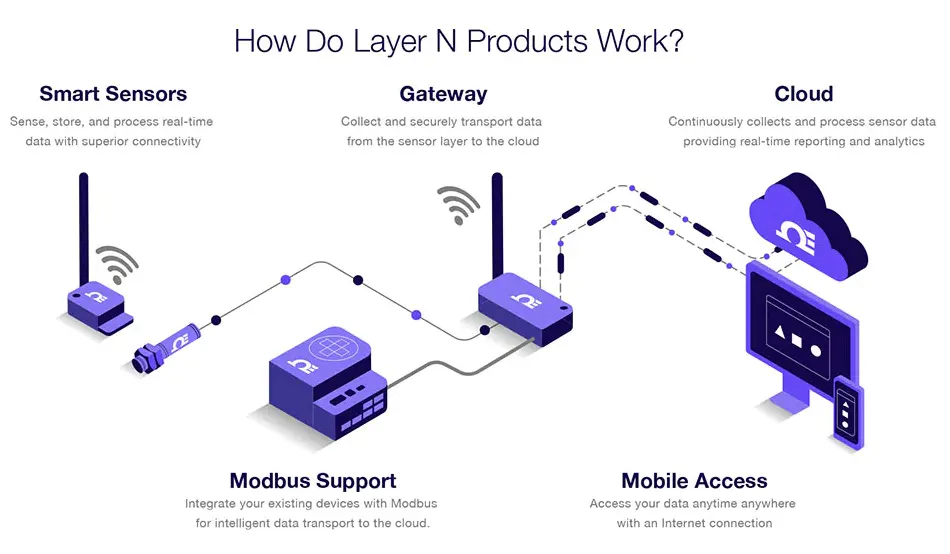 SPECIFICATIONS:
Wireless Communication
Frequency: 868 MHz
Range*:
  Up to 1.2 km in low power mode
  Up to 3.2 km in high power mode
*Clear line of sight. Actual range may vary depending on environment
Power: Alkaline Battery, 2x C-Cell batteries (included)
| | | |
| --- | --- | --- |
| Transmit Power | Update Time | Battery Life* |
| Low | 2 Mins | 2 Years |
| Low | 90 Mins | 5+ Years |
| High | 2 Mins | 1 Years |
| High | 90 Mins | 3 Years |
* Typical. Actual battery life may vary depending on the connected sensor, signal strength and environmental conditions.
External Power*: 5 Vdc @ 1.75 W
*External power adapter optional. External power specification based on Omega specific power adaptor.
Operating Conditions for Base Unit: -20°C to 70°C, 90% RH non-condensing
Rating: IP65 (NEMA 4)
Software: Compatible with SYNC configuration software and Layer N Cloud.
---
* Fields marked with an asterisk are required